A CUP OF TROUBLE BREWING FOR MOURINHO AND PEP?
Updated: 28 December, 2011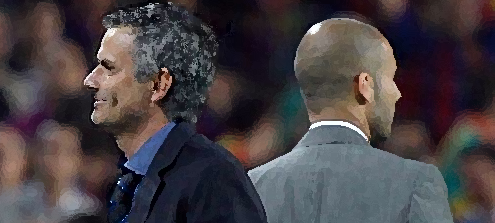 Real Madrid and Barcelona could face a fairly taxing route to the 2012 Copa del Rey final after the fixtures for the competition were released last week.
The top half has several Segunda teams and middle of the road Primera teams and will produce at least one supposed 'minnow' (compared to FCB and RM) in the final.
My favorite would Athletic Bilbao out of this group. Assuming Los Leones take care of Albacete, who beat Atleti, they would then get the winner of Real Sociedad and Real Mallorca.
I would favour La Real (Sociedad) based on their home form, which would set up a Basque derby in the quarters.
Their earlier clash in the league was a close affair but it seems as if Bielsea's men have improved since then. Espanyol have a real chance to progress in this competition, starting off with Cordoba, a tie in which they should be favored.
My only concern for Los Periquitos would be their league fixture list which—FCB at home, Sevilla away, Granada at home and Mallorca away—which is a lot of effort in a short period of time. Next up for the Cordoba/Espanyol victor would be the winner of Mirandes and Racing.
Racing are in all sorts of crisis off the field, but their performances on the field have at least stabilized. Racing have a ginormous six-pointer right after the first leg against Zaragoza and might get caught looking ahead. I see Mirandes having a real chance of causing a mild upset and moving on.
Regardless, Espanyol should be able to take care of whoever comes out of that tie, and, for arguments sake, I would go with Espanyol against Athletic in the semis, with Los Leones advancing to the final.
Then there is the bottom half, which includes the current top seven teams in Primera. Valencia against Sevilla should be nail-biting, assuming that Los Rojiblancos show up.
Levante should be favored against Alcorcon but not sure that the thin squad can handle two tough games a week as they continue their fight to stay in Champions League positions.
Los Granotes have a grueling set of league fixtures—Mallorca (h), Bilbao (a), Zaragoza (h), and Getafe (a)—that puts their progress in the competition in peril.
Barcelona should dispose of Osasuna, even with minor injuries and sub strength squads. Real Madrid against Malaga will be tricky because I'm not sure how intense Malaga will be about this trophy, with Pellegrini possibly sacrificing this tie so that his team can start turning their Liga results around to assure European qualification.
I predict Valencia v Levante in the quarters, but I have no idea who would win. I would guess Valencia in that match up but again both teams will have to balance league and cup concerns.
The second half of January should provide us with two more Clasicos, which I think Real Madrid will take. My guess is that Real will go back to their physical approach and instead of subbing flair players, will sub physical high energy players to keep Barça from passing them to death.
Start with Khedira or Lass and then sub the other one in. Maybe even bringing on Coentrao to harass Xavi, Iniesta and Busquets. Real Madrid would take care of Valencia in the semis and that would set up a final against Bilbao.
Again, the defending champs would be favored over Bilbao and could win the domestic double.
Round of 16:
1. Mirandés – Racing Santander
2. Albacete – Athletic Bilbao
3. Alcorcón – Levante
4. Córdoba – Espanyol
5. Real Sociedad – Real Mallorca
6. Valencia – Sevilla
7. Barcelona – Osasuna
8. Real Madrid – Málaga
1st leg: January 3rd, 4th and 5th
2nd leg: January 10th, 11th and 12th
Quarter-Finals:
A. Winner 4 – Winner 1 Córdoba – Espanyol – Mirandés – Racing Santander
B. Winner 8 – Winner 7 Real Madrid – Málaga – Barcelona – Osasuna
C. Winner 6 – Winner 3 Valencia – Sevilla – Alcorcón – Levante
D. Winner 2 – Winner 5 Albacete – Athletic Bilbao – Real Sociedad – Real Mallorca
1st leg: January 18th, 19th
2nd leg: January 25th, 26th
Semi-Finals:
Winner A – Winner D
Córdoba – Espanyol – Mirandés – Racing Santander – Albacete – Athletic Bilbao – Real Sociedad – Real Mallorca
Winner C – Winner B
Valencia – Sevilla – Alcorcón – Levante – Real Madrid – Málaga – Barcelona – Osasuna
1st leg: February 1st, 2nd
2nd leg: February 8th, 9th
______________________
Visit Austin's fantastic website, the Soccer Nomad online and follow him on Twitter at @AustinLong1974
Follow @icentrocampista