HAS LUIS ENRIQUE GOT ENOUGH TO CONQUER ROME?
Updated: 13 December, 2011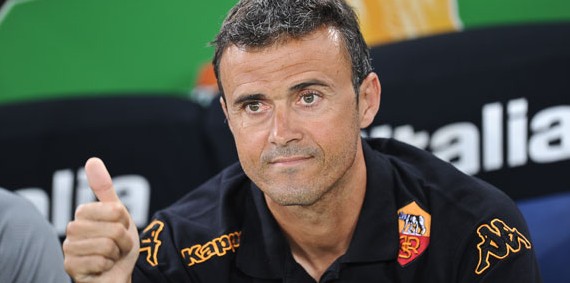 Veni, Vedi, Veci. He came, He saw, He conquered. The famous words uttered by the Roman Emperor Julius Caesar after revolts in Thrace.
Over two thousand years later, former Barcelona and Real Madrid legend Luis Enrique has come, he has seen but has yet to conquer the challenges of coaching ambitious AS Roma.
The Eternal City's beloved club has seduced millions worldwide with swashbuckling football over the years; however the proud institute are not renowned for being Italy's winners. Rival fans joke that they are pretty losers, but merely a second team to those who detest the giant clubs from Turin and Milan.
So when on the 8 June 2011, Enrique was appointed head coach of the Giallorossi after an impressive stint at  Barcelona's B side, there was fresh optimism among the fans.
Backed by the new investment of American Thomas DiBenedetto, and a youthful manager who has drawn obvious comparisons to Barça's current manager Pep Guardiola, many believed Roma were about to embark on a bright new future.
There were some who were slightly apprehensive however, with leading expert Paolo Baldini questioning if Enrique had the right experience for Italian management. Here was a manager who won major trophies as a midfielder, while playing under key footballing figures such as Louis Van Gaal and had coached the values of Barcelona to a successful league campaign for their reserve side.
Taking on Italy's fourth biggest club is a whole new ball game however, especially for a relative novice.
The season began early with a Europa League tie against Slovan Bratislava and a first league match against Cagliari. New and expensive signings looked impressive, including Dutch goalkeeper Maarten Stekelenberg , Bosnian playmaker Miralem Pjanic and an assortment of former Spanish primera division players.
At fullback there was Gabriel Heinze a former utility man for Capello's Real Madrid and the rampant Jose Angel.
However it was the forwards who really looked the part for Roma, with Bojan Krkic and Pablo Osvaldo supposedly spearheading the new era of Gaillorossi.
Not to mention the late loan signing of the tireless Argentine Fernando Gago from Spain's capital.
Last season Osvaldo impressed with Espanyol. Statistics of 13 goals in 24 games made for impressive reading. Whilst Bojan has long been touted as the future number Nine of Spain.
The latter has won everything in club football with Barcelona and did turn down a call-up with eventual champions Spain for Euro 2008 citing fatigue.
Despite his lauded talent there was a feeling that he had stagnated at Barcelona, leading to a lack of starts and confidence. So finally Romans had hope in a young attack which wasn't based solely to the style of their talisman Francesco Totti.
Nobody told Slavon however, who destroyed Roma's European campaign with a 2-1 aggregate win.
Enrique was criticised for the controversial decision of leaving Totti out of the defeat in Slovakia. The 4-4-3 formation which Enrique had chosen to use, whilst allowing for plenty of possession has provided little thrust.
Things improved for Enrique's side and in the following weeks Roma looked resolute at the back with draws against struggling Inter and Siena before Bojan inspired them to a win against Atalanta.
Bitter defeats to local rivals Lazio and then to Milan followed, and rumours of discontent soon emerged.
There were also claims Bojan was enjoying the Roman nightlife a little too much, leading to the he youngster being dropped to the sub's bench for their trip to Udinese.
Roma were awful in Udine and lost 2-0. The situation was compounded as Osvaldo punched Argentine teammate Lamela following a heated verbal exchange.
Osvaldo was suspended for the next game, which Roma lost against Fiorentina and had three players sent off.
So far, despite expensive signings, Enrique has yet  to change Roma for the better. If anything there was excessive pressure on the Spaniard due to the expensive signings and prospect of mixing Spanish tiki-taka with Italian tactical discipline.
Bojan has underperformed when you consider his natural talent and the youngster seems miles away from that 17-year-old who first burst on the scene.
As for Osvaldo, there have been glimpses but not enough to justify his €17.5 million pricetag.
Jose Angel has looked a good signing but nowhere near shown his best going forward.As for Heinze, his age is telling but as a squad player, he has brought a wealth of experience.
Lastly there is a real disappointment with Gago's efforts. He has looked lethargic, and has yet to revitalise those wonderful performances of his Boca Junior days.
Enrique will need time of course, but that is something that is traditionally a rare luxury in Serie A.
There are still more questions than answers at the club, although Enrique still has the public backing of his players and the board at this moment in time.
Many are beginning to wonder if this is a culture clash of footballing ideologies, poor transfers or just naive management on the Spaniard's behalf. A strong end to the season after Christmas will provide more answers of course, although next up for his team are league leaders Juventus…

Follow @icentrocampista