MASTER CLASS – Barcelona educate Santos in the Club World Cup
Updated: 18 December, 2011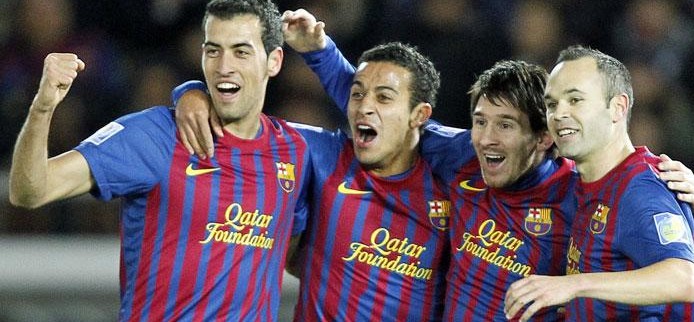 The final score was 4-0 to Barcelona, but for anyone who watched the game unfold, it seems like the least important aspect of a performance that questions what we all think we know about football.
Pep Guardiola was typically modest in the buildup to Sunday morning's FIFA Club World Cup final. The Barcelona coach was conscious, as always, that agreeing with the press in calling his team favourites to lift the title would simply add to the pressure on the shoulders of his players. Instead, he insisted that Barcelona would only be the best team in the world should they defeat Santos.
Guardiola's modesty is admirable but perhaps unnecessary from an outside perspective. Barcelona were the best team in the world before this match, and their destruction of a lackluster Santos side only served to solidify their position.
It seems that Pep's gamble to make sure his team peaked around December has paid off in spades. Starting with the weeks leading up to the Clásico, then culminating with that fateful night in Madrid and indeed, this Sunday morning, Barcelona have demonstrated a degree of movement and interchanging of positions makes them look like they're playing a completely different game to the one we call football.
It's easy to forget that, in a way, this game was Barcelona's most important of the season. It sounds crazy, but Guardiola had hinged everything this year on preparing his team to win this competition, not el Clásico. Had Barcelona lost today, those in the know in the media and amongst the fan base alike would have had serious doubts over Pep's decision making, as ridiculous as that now seems in hindsight.
As this Barcelona team continue to redefine what it means to play football, it's perhaps unfair to criticise Santos, who simply couldn't cope. The endlessley talented but still deceptively raw Neymar has never faced Carles Puyol before, and the first time the young Brazilian dribbled towards the Barcelona captain, Puyol made sure he knew who was boss.
The cameras inevitably cut to Neymar's face every time his team conceded a goal in the first half (thrice to be precise), and his look of disappointment  made it evident that only now was he realising just how great the opposition was. Such is the nature of playing against Barcelona, it looks great on TV, but you can guarantee it's soul destroying and ten times more terrifying when it's up against you in the flesh.
The only Brazilian worthy of going home with a man of the match award was Dani Alves. The Barça man is the vital piece in the puzzle that facilitates his team to play a 3-4-3 effectively.
His work rate, positional awareness (though it's safe to say we're all unsure of exactly what position he plays in) and ability to deliver a killer ball is vital for Barcelona when using such an attack minded system. Alves was everywhere, and always at the right time, always doing the right thing. He really is irreplacable for this Barcelona side.
Speaking of irreplacable, Xavi Hernandez proved beyond doubt that he is a worthy contendor for this year's Ballon d'Or. The veteran midfielder was, as one Spanish commentator put it, "Barcelona's brain". Always making the simple yet vital pass, always maintaining posession, and always pivotal in the buildup. If Alves allows Barcelona to play in this formation, Xavi allows Barcelona to play. Period.
And yet I find that I contradict myself in trying to pick out key players in such a team based performance. The Barcelona defence were equally important in the victory, with Carles Puyol again showing that he still Barcelona's best defender.
Playing three at the back requires all three defenders to be impeccable in their distribution when called upon, and Puyol was exactly that. I mentioned in my review of the match at the Bernabéu that Puyol's passing is rarely noted. Time and time again against Santos Puyi found his team mate, the highlight being a chipped number as the last man on the right side, which landed at the feet of a Barcelona player perfectly.
I apologise in advance for the overuse of this redefinition motif, but with this team constantly redefining football, it might be time for us as journalists to consider redefining how how approach writing about them.
Instead of "shots on target", a more useful statistic with Barcelona might be "positions interchanged succesfully", or something like that anyway. I'll leave that to a more qualified student of the game, but what I will say is that this Barcelona side continues to surprise and awe us, and don't look like stopping any time soon. The best team in the world. Sin duda.
Follow @icentrocampista