LOOKING FOR ERIC – Why Arsenal want Abidal
Updated: 12 January, 2012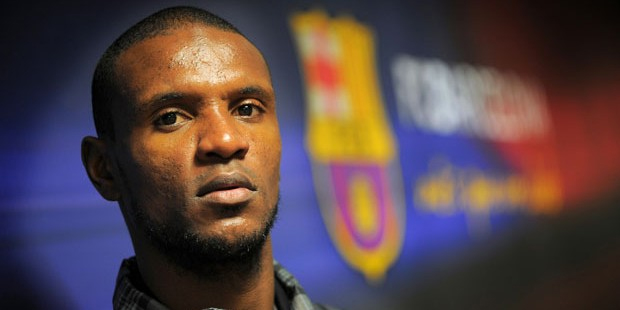 There have been a number of reports in both the Spanish and English press this week linking Arsenal with a move for Barcelona full back Eric Abidal.
These claims follow a raft of similar stories that have also linked the Frenchman with moves to both PSG and Manchester City, and while the source of these suggestions are somewhat dubious to say the least, it does give us a perfect opportunity to look at the career of the man himself.
Often overlooked in a team containing players such as Lionel Messi, Xavi Hernandez and Andres Iniesta, Eric Abidal is very much Barça's unsung hero – he may not be chosen as man of the match very often (if ever), or regularly make the front pages of Sport, but it is not due to his lack of ability.
Abidal's contributions are vital but often made invisible. Whilst the press and supporters may not realise his importance, his colleagues certainly do.
The manner in which they rallied around the Frenchman when he was diagnosed with cancer, culminating with his triumphant return to life the Champions League trophy is indicative of this.
Abidal's Barça story is a slow burner. His first season was a steady, if sometimes error filled tale of growth. In his second year at Barcelona however, the left-back went on to become a vital part of the treble winning team.
Three reasons are often touted for Barça's success that year: the arrival of Alves, keeping Messi fit, and the implementation of a high pressing game by Guardiola.
These are all warranted but only part of the fable. As Alves bombed forward in his now patented manor, it was Abidal who tucked in along with Toure to provide a steady back line.
The Ivorian's role in shoring the defence was noted by many, but Abidal's on the other hand, was often ignored by the masses.
The Frenchman showed a tremendous amount of discipline and rarely made errors, when called upon.
Perhaps his lack of plaudits was overshadowed by an unfortunate and indeed, unwarranted, sending off against Chelsea, resulting in his suspension for the Champions League final that year.
Abidal knows how to attack, too.
He doesn't maraude like Alves, nor dribble like Pique, but rather bides his time and moves forward only when necessary.
Whilst in no way a goal-scorer, his excellent ability to pick out a cross in the final third is rarely mentioned.
A beautifully weighted ball from the left through to Ibrahimovic against Deportivo springs to mind, along with an equally sublime ball in Kiev.
This season he has already provided an excellent assist for David Villa against Osasuna, which judging by the reaction of el Guaje, was appreciated by his teammate whilst others forgot.
When he did finally pop up and score a goal, it was an important one too.
Who can forget the image of Abidal placing the ball in the net against Athletic Bilbao, guaranteeing Barça's place in the Copa del Rey final? "Rei Abidal", the Catalan press cried, though it's a pity it took a goal for them to notice.
It was not that image however, but rather his battle with cancer and subsequent return that would eventually define Abidal that year.
Perhaps it should have been neither. Prior to his diagnosis, Abidal was Barça's best defender in the 2010-11 season by a clear stretch, to the degree that he was beginning to be touted as the stop-gap successor to Puyol.
One memory in particular sticks in my mind: Abidal nonchalantly chesting an attempted cross back to Valdes against Real Madrid in the 5-0 victory at the Camp Nou.
His deteriorating health would ultimately overshadow his impeccable performances, but they shouldn't be forgotten.
Only now is Abidal beginning to regain full fitness- understandable considering the year he has just lived through.
Against Osasuna, his arrival on the pitch was undesired but essential.
With Pique limping off, Abidal stepped in to the centre of defence once again, and provided his most confident showing in that position yet this season.
This performance will no doubt be some relief to Guardiola.
Pique is picking up an alarming number of injuries this year and, whilst his unique talents cannot be replicated, Abidal's physical prowess and composure going forward will provide an excellent deputy if his Catalan compatriot is to continue to suffer niggles and knocks.
I suspect Abidal's own fitness will prove vital to Barça's success this year, and if he can return to his best from the previous season, any potential losses caused by the injury of other players at the back will have less of an impact.
Guardiola, Barça and its fans are probably counting on Abidal more than they think this year.
Pages: 1 2