MOURINHO LOSES IT AS PEP KEEPS HIS COOL – Pre-Clásico press conferences of contrasting moods
Updated: 17 January, 2012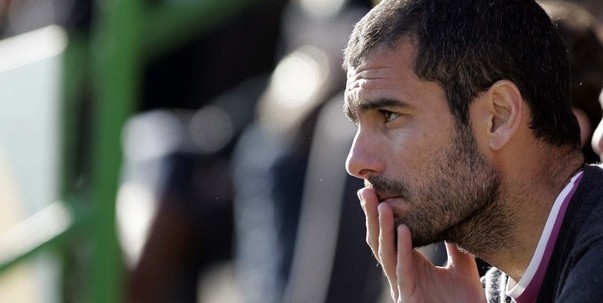 Up until today, Jose Mourinho looked like a changed man. The ruse of the calmer, more sophisticated Jose Mourinho was being weaved with expert precision. As if by magic, the memories of the Spanish media seemed to go blank: gone was the Mourinho that shoved his thumb in Tito Vilanova's eye,  that famously exclaimed "Why? Why? Why?".
In an instant the bubble burst. In today's pre-match press conference, Mourinho's meaner side re-emerged.
The offending question was harmless. "As a coach, is there much at stake for you tomorrow?".
Mourinho's response was disproportionate, Mr Hyde glaring out from Dr Jekyll's shell.
"What do you think?" Mourinho asked.
"Yes, I think so", the journalist responded.
"How many titles do I have to have in my curriculum so that I'm not playing for my career and my life in a knockout game?"
Mourinho continued to raise his voice, before adding  "the only thing at stake is whether I'm happy or sad the next day, as in every game."
Based on that performance, Mourinho didn't wake up happy this morning.
Pep Guardiola's conference, on the other hand, was the polar opposite of Mourinho's outburst.
Pep answered with clarity, length and attention to detail to every question he was asked. Despite one particularly probing question from a Marca journalist ("Do you understand why people doubt Pinto?"), Guardiola responded coolly and assertively:
"I don't think people doubt Pinto, they know we believe in him and he knows it too".
Even when faced with one particularly strange question by a nervy sounding (and probably recently employed) Catalan journalist, Guardiola was cordial.
The decision to use the pre-Clásico conference to ask Pep what his favourite book was in la Masia was a strange one, but regardless Pep gave him a full answer.
With Guardiola being typically subdued, journalists were forced to work hard for anything close to a scoop.
But try they did. One RAC1 journalist chose to read between the lines for his. When asked the aforementioned question about his favourite book, Guardiola replied that "only culture can take us out of the mess we're in".
He then elaborated on the importance of "learning, respecting languages, of which there are more than 1,000, and we have to respect that everyone speaks his own".
The journalist's opinion? That Pep's comment was in response to criticism directed towards the coach after speaking in Catalan at the Ballon d'Or gala.
Perhaps and perhaps not. It is nonetheless evident that Guardiola's composure makes writing headlines more difficult for the Spanish red tops. Certainly more of a challenge than for those in Madrid earlier today.
There was one moment of note in Catalunya however. Blink and you would  have missed it, but it's sure to appear on the front pages tomorrow.
After finishing a lengthy answer, Guardiola ended on "por que?" (why?).
Realising what he had said, the Barcelona coach laughed and exclaimed "Wow, what a word….".
I doubt Jose Mourinho was laughing.
Follow @icentrocampista