THE NEXT BIG THING – Alvaro Morata is ready and waiting
Updated: 29 January, 2012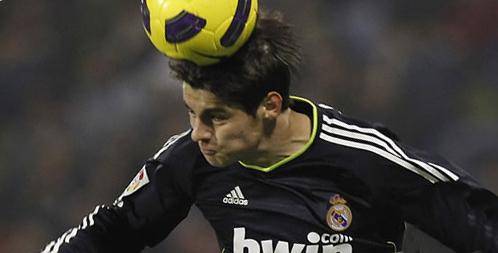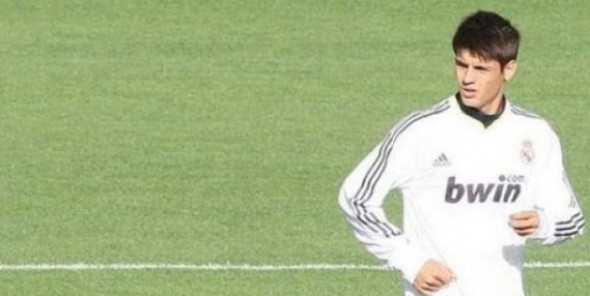 Real Madrid's 3-1 win over Real Zaragoza last night means Jose Mourinho's men have now scored an incredible 70 goals in 20 la liga matches this season.
Cristiano Ronaldo, Gonzalo Higuain and Karim Benzema give the league leaders one of the most potent forward line we have seen in Spain for many a year, and that's without adding the injured Angel di Maria to the mix.
Mourinho's side now sit seven points ahead of their nearest rivals, reigning champions Barcelona and are wreaking havoc against all and sundry.
They have quite simply blown the rest of la liga out of the water this season – with one obvious exception at the Santiago Bernabeu in December.
The bad news for defenders is the fact there is more attacking talent waiting to take their chances when they get the opportunity.
Alvaro Morata and the rest of the young Spanish cavalry lit up the European Championships in Romania last summer, however it was the Madrid-born  striker's finesse and clinical finishing that really stole the show.
Scoring six goals, including one hat-trick, Morata eased to the golden boot award in Romania, doubling the tally of the second placed players.
Regular comparisons to Real Madrid legend Fernando Morientes have been made, with aerial dominance key to both player's games, but Morata also has exceptionally quick feet – and a devastating finish.
While comparisons to the great Morientes may be a little premature, an impressive nine goals in thirteen appearances for the Spanish under 17s, 18s, and 19s speak volumes as to his ability.
He could certainly add something different to the Spanish attack. His ability to hold the ball up would be key to get the on-rushing maestro, Andres Iniesta in to the game.
The protégé started his club career at Atletico Madrid as a 13-year-old, moving to Madrid neighbours, Getafe two years later.
Morata impressed at the el Geta and Real Madrid soon came calling, signing the 17-year-old in 2008.
He went on to win two youth titles with the Juvenil C, Real Madrid's youth side, scoring 34 goals.
His prolific scoring record for the Juvenil C led to promotion to Real Madrid Castilla, the club's B team, in August 2010. In the same month, Morata along with four other Castilla squad members were taken to the USA for the first team's preseason tour.
Morata made his first team debut in December 2010, coming off the bench in his club's 3-1 victory over Real Zaragoza with another appearance coming a week later against Levante.
He has been pushing for a recall ever since, averaging at just under a goal every two games for Castilla, and has certainly caught the eye of head coach Jose Mourinho.
If reports are to belived he also made an impact on Madrid's Catalan rivals, Barcelona, who were linked with a "smash and grab" of the young forward – a possibility quickly disregarded by Jose Mourinho however.
Other clubs linked with signing the teenager are English clubs Manchester United, Chelsea and most recently, Arsenal where his aerial dominance could have a substantially positive effect.
The growing presence of 6ft5in Athletic Bilbao striker, Fernando Llorente has shown there is definitely a market for big strikers, a market in which Morata has the ability  to rise to the top in.
With quick feet and undoubted finishing ability, Alvaro Morata is sure to a have a successful career ahead of him. Whether he will reach the heights of former Madrid legend Fernando Morientes however, only time will tell.
Follow @icentrocampista