THE MAN BEHIND THE GLOVES – A goalkeeping legend
Updated: 29 January, 2012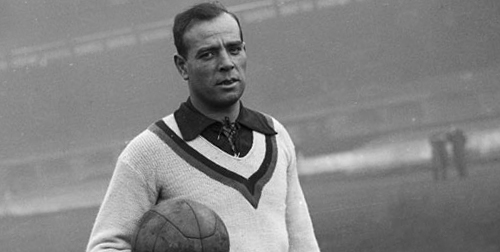 Victor Valdes  was named top goalkeeper in La Liga last May, receiving the prized Zamora trophy for the third year in a row and for the fourth time in his career.
He will be favourite to win it again in the coming campaign as he sits at the back of a team that regularly enjoys 70% possession over their opponents – securing the accolade for a fifth time would see Valdes tie with the great Antoni Ramallets in the history books.
The Zamora trophy is a prized award and has been given to some of the greatest goalkeepers to have graced La Liga, it is famous the world over and, along with the Pichichi (awarded for the highest goalscorer) is one of the most respected individual awards a player can win.
Ask the majority of La Liga followers what the Zamora is and it is fair to say you would get a quick, concise response, ask them WHO Zamora was however, and many may be less sure of themselves…
Ricardo Zamora was born in Barcelona in 1901.
In 1916 he signed for Espanyol aged just 15 following a youth career as a goalkeeper with Universitari. With Espanyol he won the Catalan Football Championship before a fall-out with the clubs hierarchy saw him transfer across the city to rivals FC Barcelona.
The Barcelona team he joined was coached by Jack Greenwell, an English football manager who had also played for Barcelona himself.
Greenwell's Barcelona side went on to win three Campionat de Catalunya and two Copa del Rey titles with Zamora in the team and the player was an integral part of Barcelona's first "Golden Age".
In 1920 his achievements at Barcelona meant he, and four of his teammates, were selected for the first ever Spanish National Squad. The side's tournament debut was in the 1920 Olympic games where they got a silver medal.
Zamora's most notable international achievement occurred later, in 1929 when the Spanish Squad became the first ever international team to defeat England.
After the game it was revealed Zamora had played the majority of the spectacular game, which finished 4-3, with a broken sternum.
In 1922 after just three years with the club he made the short trip back across town to Espanyol where he was soon reunited with his former boss Jack Greenwell, who arrived the following year.
Zamora and Greenwell rekindled their the successful partnership which culminated in  the clubs first Copa del Rey in 1929, and the club were one of the sides to line up in the inaugural season La Liga the following season.
By this point in his career Zamora was renowned throughout the world of football. The final step in his Spanish playing career saw him move to the Capital to play for Real Madrid.
It was there he won consecutive league titles in 1931 and 1932.
This was the start of the winding down of a great playing career which culminated in the 1936 Copa del Rey final, the first final to ever be contested between Real Madrid and Barcelona.
Real won 2-1 and Zamora is remembered for a sensational save on the final minutes as Barcelona pushed to equalise, it was a fitting way to end his playing career in Spain.
The Spanish Civil War contributed to Zamora moving to French side Nice for two seasons, where he would retire from playing and in  1937 he became player manager at the club.
Zamora ended his international career with 46 caps to his name and for almost half a century he was Spain's most capped player, a magnificent testament to his influence.
As the war drew to an end and La Liga was re-established Zamora moved from Nice to newly formed Athletic Aviación de Madrid, the result of a merger between Athletic Club de Madrid and Aviacion National. The club would later be renamed Atletico Madrid.
His managerial career in Spain picked up where his playing career had left off as he guided Madrid to consecutive league triumphs. Despite this early success, Zamora's 20 year managerial career proved less fruitful than his days as a player.
On leaving Athletic Aviación he went on to coach Malaga, Espanyol and Celta Vigo, and also the Spanish national side for two matches in 1952.
Off the field Zamora matched a successful career with an "extravagant" personal life, he drank Cognac, smoked heavily and was no stranger to controversy.
At the 1920 Olympic Games Zamora was sent off for striking an opponent and was then arrested while travelling back from the tournament  trying to smuggle in Cuban Cigars,an offence that led to his imprisonment.
Zamora lived out the rest of his life in Barcelona before dying in 1978, aged 77.  Held in great esteem in the footballing world, Zamora was honoured by World Soccer Magazine as one of the top 100 players of the 20th Century.
A great player with a fiery temper and exuberant lifestyle off the pitch, the trophy that bears his name stands as a lasting reminder to one of Spanish football's first true greats.
Follow @icentrocampista