FINDERS KEEPERS – What next for Thibaut Courtois?
Updated: 30 January, 2012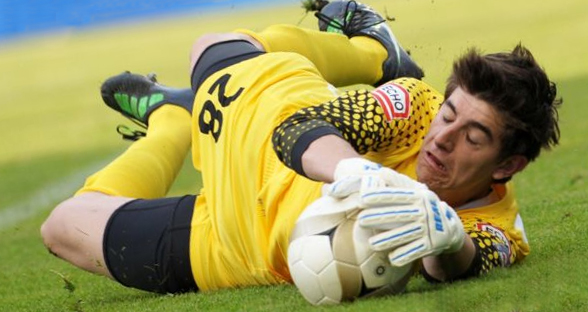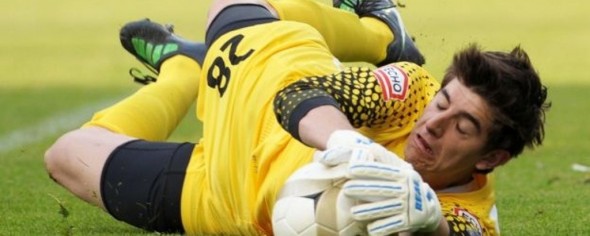 There are not many clubs who can afford the luxury of splashing out €9 million on a player only to almost instantly send them off on loan.
However that is exactly what Chelsea did last summer after completing the capture of Genk's highly rated young goalkeeper, Thibaut Courtois.
With the ink barely dry on a no doubt highly lucrative Chelsea deal, the 19-year-old was packed off to Atletico Madrid on a one-year loan deal to replace Manchester United bound David De Gea.
Some eight months on, and it is fair to say that the two goalkeepers have enjoyed contrasting debut seasons with their respective new clubs.
This weekend's FA Cup defeat against Liverpool has raised even more question marks as to whether De Gea has what it takes to be a success in the Premier League and although a goal may ultimately consist of two posts and a crossbar in which ever country you play football, an inability to command a penalty area is only asking for trouble.
So much trouble in fact, that the €18 million man has already lost his starting place to Anders Lindegaard at United.
Courtois time in Spain however, has been a lot brighter.
Atletico Madrid may not be fulfilling all expectations this season, but Courtois has produced numerous high quality performances that have not only secured a starting berth at the Vicente Calderon, but have also seen him receive international recognition.
In fact the youngster has been enjoying his time in the Spanish capital so much that he wants to stay beyond his currently scheduled summer departure back to Chelsea.
"I am very happy at Atletico and I am living a good experience," Courtois told Marca, "I would like to stay here at least one more year and I said this to Chelsea's manager on Sunday."
He may be viewed as the long term successor to Peter Cech at Stamford Bridge, but the question that Andreas Villas Boas must surely ask himself is whether Courtois' performances this season have brought forward any scheduled 'takeover' date.
And with Cech struggling to replicate the highs of his first couple of seasons in the Premier League, maybe the time when Courtois is ready to really challenge the Czech Republic international is near.
It's a conundrum that Villas Boas must get right.
Does he risk letting Atletico have Courtois for one more year, or does he decide that the Belgian is of pressing need at Chelsea?
And while Chelsea has every right to bring him back next season, the fear must be that spending time gathering splinters on the substitute's bench must surely be counterproductive to his progression, there can be little price put on the experience that Courtois is currently soaking in gained by playing week in week out in one of Europe's elite leagues.
In addition to learning about the pressures associated by playing for a high profile club, Atletico Madrid have given the Belgian the platform to ensure that he is at the pinnacle of performance when the call from Stamford Bridge finally arrives.
Vitally for Chelsea, he is becoming a better goalkeeper because of it.
Whether Andres Villas Boas is willing to grant Courtois another year to round these skills is questionable, however one thing is for sure, if Boas wants him to stay at Stamford Bridge then he must be willing to give him every chance to replace Peter Cech. Not in a couple of years – but now.
Ask any Atletico Madrid fans and they are in no doubt as whether the Belgian is ready.
Follow @icentrocampista