STEADYING THE SHIP – Molina looks for improvement at Villarreal
Updated: 13 January, 2012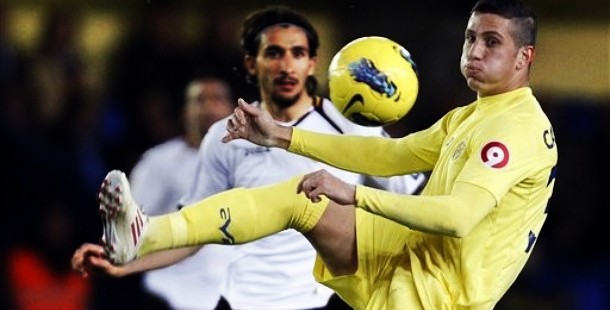 The José Molina coaching era got off to a good start on Sunday, nearly a dream start, if Valencia's Aduriz hadn't scored a late equalizer.
Former coach Garrido could have filled out the Yellow Submarine teamsheet with the same names as Molina wrote down—Borja Valero, Marcos Senna, Cani, Ruben, etc.—but these were not the same players we saw stumble out of the Copa del Rey against Mirandés.
Garrido's authoritarian, obsessive nature has been replaced by Molina's more relaxed style, and the veteran players, especially, seemed to rediscover the joy of the game.
From the opening whistle Villarreal played faster than they had in ages, pressing Valencia all over the pitch, and deservedly going ahead with goals from Marco Ruben and Gonzalo Rodriguez. But one thing hasn't changed, Villarreal's habit of giving up goals late in halves.
Shortly before halftime an amazingly precise (and lucky) volleyed cross from Michel found Feghouli in the box with Gonzalo nowhere near him, and the Los Che man fired the ball home.
The second half was less wide-open, but apart from a tight offside call on Soldado and a couple of half-chances Valencia hadn't created much and
Villarreal seemed to be in control. But with three minutes left a mishit clearance from Zapata (who had missed a golden opportunity to put us up 3-1 earlier) set the ball up perfectly for Aduriz to beat the unsighted Diego Lopez from outside the box.
A cruel outcome given that Villarreal had played so well, but everyone, players and fans, seemed to look more on the positive—the fact that their team had held their own against the third-placed team in the league, and the one point gained—rather than the negative.
Yes, Villarreal is 18th in the table right now, but confidence has returned to the team.
Marcos Senna, Borja Valero and Juan Oriol had particularly praiseworthy games, and ex-B teamers Gonzalo Castellani and Florian Lejeune looked good off the bench.
No action for Joselu (with the B team last week), Hernán Pérez, or Jonathan de Guzmán though—will they be called upon against Atleti?
Still, Molina has problems to address. Defensive errors, especially marking on dead-ball pieces, remain common, and worringly for the attack, Nilmar is clearly not back to his best form yet. He did have either a lucky or great first touch to set up Ruben for his goal, but otherwise he struggled to make an impact, the Valencia defense generally able to shade him so as to force him outside and away from goal.
He is lacking confidence and close ball control as well as that quick first step.
The real test lies ahead, over the long haul. Garrido was able to get the team to compete at home with the better clubs in the league, but he never did have much success on the road, even against the lesser lights in La Liga.
Villarreal has a number of home games in the second half of the season against teams they should beat, and they need to do so. And there are some winnable away matches as well.
Other good news is that Giuseppe Rossi is recovering well from his knee surgery and may be able to play yet this season.
Many of the away fixtures in the second half of the season are against clubs in the lower half of the table. That said, this Sunday's game against eleventh-placed Atleti (a noon kickoff at the Vicente Calderon) is going to be a hard one, as club legend Diego Simeone makes his home coaching debut for the colchineros.
Marco Ruben is suspended, while Gonzalo, Marchena and Musacchio are all nursing knocks.
Not exactly the best injury list to have as you prepare for Radamel Falcao, is it?
Fans of the Yellow Submarine may have to wait a little longer for Molina's first win…
__________________________
Be sure to go to VillarrealUSA.com for more news of the Yellow Submarine—podcasts, game threads and analysis of Villarreal and Villarreal B matches. Vamos Villarreal!!
Follow @icentrocampista