WHAT THE PAPERS SAY – Support for Pepe in Barcelona, Madrid calls for punishment, and Carles Puyol, tactical genius.
Updated: 20 January, 2012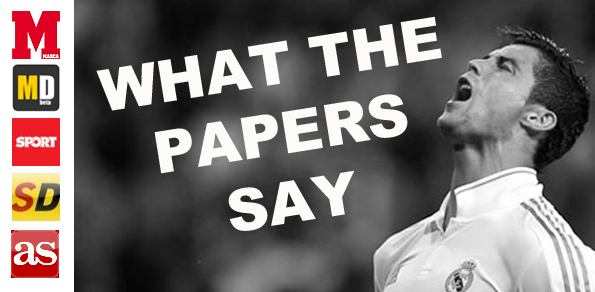 The world has gone mad. As the dust settles on Pepe-gate, as I'm now naming it in a traditionally lazy fashion, the Spanish sports dailies aren't quite sure what to make of the whole thing.
Don't believe me? You will when I tell you that in Sport this week, there was support for Pepe, and in AS, resounding cries for his head to roll, so to speak. Intrigued? Read on.
In Barcelona, the general reaction to Pepe's antics were, as you would expect, sheer outrage. The number of headlines berating the Portuguese defender are too numerous to detail here, and let's face it, everyone already knows what they say.
One particularly interesting front page story that came from Sport however  may serve as a surprise to the paper's loyal readers.
Instead of yet another article castigating Pepe's actions, Sport ran with the headline "Schuster: Pepe cuando se pone la camiseta es otro tio" (when Pepe puts the shirt on he's a different person).
The former Madrid manager (and player for both of the big two) defended Pepe when speaking to Marca radio, saying that "Pepe is a good person, a great professional, and Madrid have to have him".
He then went on to elaborate, in a move that will no doubt antagonise a certain section of the public, that "it's something strange, that if you know him personally you can't explain. There's this particular type of player that transforms, like what happened with Stoichkov".
Schuster is referring back to an incident in which Stoichkov, playing for Barcelona, stamped on a referee after a heated discussion.
Yes, a Barcelona player didn't attack the opposition, but an official, though some of the eyes, ears and minds in Catalunya appear to have wiped this incident from their collective memories. Ultimately, no one act of this kind is worse than the other, but it's far too easy to be a hypocrite when analysing these situations.
Schuster has a point, and no one can argue that he doesn't call it like he sees it. Remember, this was the guy that got the sack for saying his Real Madrid side had "no chance" of beating Barcelona.
The role reversal continued over in Madrid, where AS went with the headline "Un 94% de la afición cree que Pepe debe ser castigado" (94% of supporters thing Pepe deserves to be punished).
AS say that the overwhelming majority of their readers believe Pepe should be punished retrospectively for his actions. They note however that as it stands, Real Madrid are not looking to sanction their player, and as Barcelona have not reported his actions, any repercussions will likely come once the Competition Committee looks at the case.
They also report that Pepe trained today with his Madrid teammates, though it will not be known until tomorrow whether he has been selected for their next league fixture. Which leads us on nicely to our next headline.
Marca continued to defy the party line yesterday with their headline "Pepe, 15 días a la nevera" (Pepe, 15 days in the fridge).
Despite being more often than not pro-Real Madrid to the degree that it defies belief, Marca have been consistent in their disapproval of Pepe's actions since Wednesday night.
The Madrid daily cast a cynical eye over murmurs coming from the club that Pepe has "muscular problems".
Such niggling injuries are, the paper claims, "the perfect excuse" to drop the defender from the Real Madrid team without being seen to punish their own player. Marca maintain that Pepe is unlikely to appear against Athletic Bilbao at the weekend, nor Barcelona in the return cup fixture, though the final decision will be down to Jose Mourinho.
According to Marca, Mou was furious with Pepe's poor defending for Puyol's goal, and is equally aware that the Santiago Bernabéu faithful is unlikely to welcome him with open arms this weekend.
Speaking of Jose Mourinho, Marca mention later in the same article that the Real Madrid coach has also been ordered to take a few days off in the buildup the their next fixture, with Mourinho reportedly looking anxious after the first leg against Barcelona.
If he's already anxious, then Pepe's poor defending will give Mourinho a heart attack should El Mundo Deportivo's headline prove to be true.
The Barcelona paper ran with "Carles Puyol a Tito Vilanova: "Si Xavi me la pone aquí, marco" (Carles Puyol to Tito Vilanova: If Xavi puts the ball here, I'll score".
EMD claim that Carles Puyol's equaliser was not a result of chance, but rather that the Barcelona captain had noticed Madrid's poor defending in that particular area of the box. At half time, Puyi reportedly approached Vilanova ("with his shirt off", as EMD feel the need to note for some reason) and requested that Barcelona's set pieces be adjusted accordingly.
The result? "Only three minutes into half time, Xavi sent the ball into the heart of the area, whereupon, after Barça players dragged Madrid defenders wide, Puyol hammered home the equaliser".
If it turns out to be true, I doubt Jose Mourinho will be thrilled to have been outwitted by the Barcelona captain. Let's face it though, Mourinho doesn't read or care about the Barcelona press.
That's enough Clásico nonsense for one week. Join me next Friday for the no doubt equally enthralling aftermath of the second leg.
Follow @icentrocampista