COPA, LIGA, CHAMPIONS – Where do Guardiola's priorities now lie?
Updated: 12 February, 2012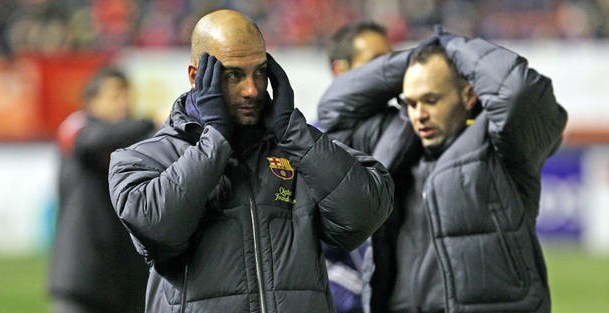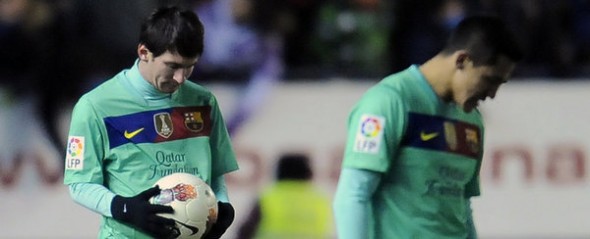 Photo: Alvaro Barrientos – AP
When the final whistle blew on a wind battered Reyno de Navarra stadium, FC Barcelona's collective faces told a thousand stories. But for a miracle, even prior to their crunch tie with Osasuna, the league was already gone. Now, Guardiola will need more than divine intervention if he is to lead Barcelona to their fourth successive league title.
As someone put it to me after the game, admitting that such a talented team has finally been beaten feels barbaric, but the logic within any sane-minded follower of La Liga leads to only one conclusion. Real Madrid are unlikely to falter, and if they do, they're doubly unlikely to falter twice.
Even if Levante pull off the shock of the century (to follow the shock of the season in their last encounter) and take points from the men in white, it will do little to shorten the gap between the top two. Certainly not enough to have any real influence on the outcome of the league. Ten points is a horrific gap, seven isn't much better, and realistically Barcelona were probably beaten before a ball was kicked on Saturday night.
For this Barcelona team to have caught Madrid they would have needed an extra inch in their strides at the minimum. Instead, the likes of Gerard Pique look to have lost, not gained, fighting spirit. Along with Pedro, the Barcelona defender put in his poorest display in recent memory for the blaugrana, and certainly wouldn't have gotten in to the Osasuna team on the night based on his performance.
It's difficult to criticise Pep Guardiola, but in withdrawing Pedro and Puyol for Tello and Cuenca, the Catalan coach made almost the right call, but with one fatal error.
Pique, not Puyol should have walked, and history should have taught Pep that when Puyol's on the park, Barcelona are far less likely to lose. Instead what we got was a Gerard Pique who floundered his way through a horrid 80 or so minutes before finally being saved the embarrassment of finishing the game.
Even in a stint as an auxiliary number 9, an area in which he has so often played saviour in the dying minutes of games past, he looked desperately out of sorts. The contrast between the assured Gerard Pique of seasons gone by, a player that would have turned an attacker inside out then played the perfect past, and the clumsy, flailing mess of a man on the pitch at Pamplona was frightening.
Both supporters and the Spanish press alike are quick to suggest that matters off the pitch are causing Pique's dip in form, but to me this seems too convenient and lazy analysis. Rather, I think it's more likely that having won so much over a sustained period of time at such a young age, Pique is becoming complacent.
Complacency is the very thing that Guardiola has worked so hard to avoid in this Barcelona side, but with injuries causing a lack of competition for key places, it is perhaps inevitable.
We can spend hours analysing the minutia of individual performances, but ultimately horrid luck with injury combined with a brutal schedule played a key part in drawing an early sentence on Barcelona's league campaign.
Right now, Guardiola has some important choices to make that will reveal his true priorities for his team. The question now on the lips of every culé in the world is this: should Pep admit La Liga defeat and focus on winning the Champions League?
The biggest prize in Europe is the one thing that, should Barcelona go on to win, would overwrite any bitter memories of losing La Liga. To do so would require a cunning slight of hand.  Guardiola would need to continue to present Barcelona as at least competitive in their domestic competition (otherwise the outcry amongst supporters would be inevitable) whilst at the same time focusing his resources on Europe.
The positives would be there for all to see, should Barcelona came home with the biggest prize of all despite losing domestically. The Catalans would become the only team to defend the title succesfully in its current incarnation. If it were to happen, to me there is no debate over what people would remember this Barça side for in the future: losing the league or making history?
It's a dangerous game however. The alternative is that not only do Barcelona face defeat at home, but through bad luck, poor performances or a combination of both, they are knocked out of Europe. A blow that would be hard on the club at the best of times, it would feel ten times worse should they also be seen to have neglected the league title three months before officially decided.
In truth, Guardiola only has one option. Barcelona must continue to fight tooth and nail for a league that is no longer in their hands. At the same time, they must also ensure progression in Europe and, lest we forget, bring as competitive a team as possible to the Copa Del Rey final.
Catalans are well known pessimists, and partly as a consequence of this Barcelona are far less effective at chasing a league than their arch rivals. In a press conference last week, Guardiola addressed the issue, and insisted that such a mentality is something he must work to change amongst his team. Pessimism may yet be conquered in the Barça camp, but Catalan pride is something that cannot be subdued, and Pep Guardiola only knows how to do one thing: fight until the bitter end. Rest assured, it's what Barcelona will do, no matter the outcome.
Follow @icentrocampista