MANIA AT THE MESTALLA – Honours even between Barcelona and Valencia, but at what cost?
Updated: 1 February, 2012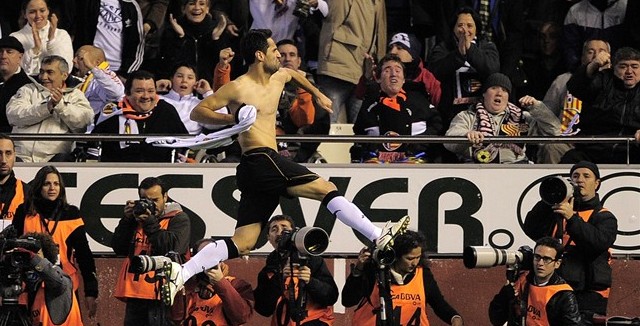 As kickoff approached at the Mestalla, fans attempted to form a mosaic of the kind normally seen at the Bernabeu or the Camp Nou.
With no disrespect intended, the result was somewhat pitiful and only half succesful, the words "Jo crec" (I believe) were just about visible if you strained, but the stadium looked nowhere near full enough to create the kind of collage found at its bigger neighbours.
The not quite nature of the display is a good metaphor for Valencia's performance as a whole, culminating in a 1-1 draw that could prove costly for their attempts to progress.
Valencia started off well, albeit in an unusual manner. Unai Emery, the archetypal tinker man, abandoned the tactic of using the wings effectively with quick passing in the midfield that had worked so well against Barcelona in the league. Instead, Los Che opted to play the spoiler to Barcelona's creator, and it almost worked.
The home side went ahead early on through a perfectly struck Jonas goal. Ironically, it was the result of a swift counter-attacking move down the left flank and a somewhat lucky Jeremy Mathieu cross that was more typical of Valencia's previous game against Barcelona than tonight's. Had Los Che mantained this approach throughout they might have ended the night with more than a draw.
It could have been worse, too. Despite a sluggish and generally poor first half performance from the visitors (the only positive moment of which was a Carles Puyol headed goal), Barcelona looked like a team revived in the second 45. As if by magic, every player clad in blaugrana seemed to up his game and Valencia looked increasingly uncomfortable.
The highlight was undoubtedly a double pirouette from Carles Puyol that almost set up a goal for Barça. The Barcelona captain lead by example tonight, rolling back the years with a right-back performance remoniscant of his earlier days at the club.
A second close call came courtesy of a thundering strike from Eric Abidal. The Frenchman already has one this season, equalling his record best with any club (which incidentally came in the Copa Del Rey last year for Barcelona). Abidal didn't manage to break his modest record in the end, thanks to an excellent save from Diego Alves.
Alves was Valencia's best player by a mile. His crown jewell was a brilliant penalty save from Lionel Messi. The Argentine is in good company too. Other players to have penalties saved by the Valencia stopper include Freddie Kanoute, Cristiano Ronaldo and Fernando Llorente. A record to be proud of by anyone's standards.
If Barcelona will rue a missed opportunity, they will none the less be content to return home with a vital away goal. Valencia on the other hand have made life difficult for themselves, with their only option now to go and score at the Camp Nou. Considering Barça's defensive record at home, it's a daunting task.
If Los Che can indeed go to the Camp Nou and find either the victory or high-scoring draw necessary to progress, it would be the perfect centrepiece to a year already being marked by their revival.
New sponsor, new stadium, Copa final, new hope for Valencia. Maybe.
Follow @icentrocampista