SOCCER NOMAD: LA LIGA AROUND THE WEB
Updated: 1 February, 2012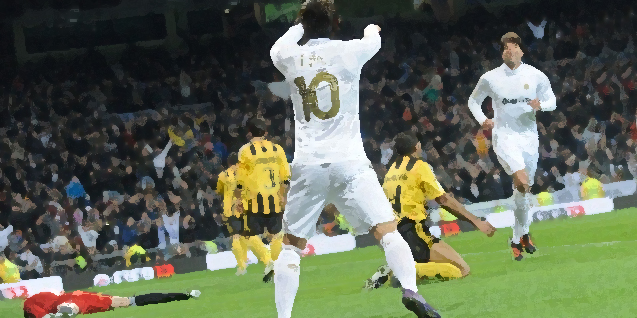 Saturday
Fernando Llorente scored his first hat trick as Bilbao have moved up to sixth after defeated Vallecano 3-2; Espanyol responded to their shock cup defeat with a hard fought 1-0 win over Real Mallorca; Real Madrid recovered from another early deficit to crush relegation locks Real Zaragoza; and Villarreal drew with FC Barcelona 0-0.
Mike Barnes at A Different League wrote an interesting piece after the Madrid match, using a piece from the Sunday Times to paint the picture of the Special One leaving Real in the summer and heading back to England.  If he wins the Double, bet on it.  If not, he may try to have one more go in the Spanish capital.
Madridista Mac sees Los Blancos coming into form as the Year of the Dragon begins, with CR7, Kaka, Ozil spearheading the attack and Carvalho and Granero providing depth and experience in the midfield and defense.  The league is over, and now the next test for Mou's men will be the Champions League.  Avoid FCB and it surely must be the magical tenth title.
As for Barcelona, Pep's men went into the Villarreal game with 14 fit first team players.  I won't list the injuries but they are significant, causing the call ups of Cristian Tello, Sergi Roberto and Jonathan Dos Santos.  Villarreal, according to VillarrealUSA.com, went into the game with Perez as a scratch and Ravi didn't even put in de Guzman or Zapata (who has been underwhelming thus far) in his projected starting lineup (and they didn't start).
I found an article on twitter from twelve points sports regarding FCB's tactics against Villarreal.  Basically the author argued that the Blaugrana had very little width to break down the bus presented by the Yellow Submarine.  Furthermore, the substitutions came too late to effectively change the game.
Honestly, if you have the time, read Euler's recap of the game at Barcelona Football Blog.  Amazing writing coupled with sharp insights and just the right amount of reality.  The post goes on for a while but nothing is wasted.  He identifies fatigue and injuries as the FCB's main opponents.  If those go away, the two cups will be theirs.  I tend to agree.  The Blaugrana seem to be missing that extra one or two gears that take them into something beyond belief.  The league may be gone but there is still much to fight for.
Kari at Barcelona Football Blog reminds readers to enjoy this team, regardless of what they win the rest of the season.  This Barcelona team is in the middle of legacy building, something that we can tell our kids and their kids about when we end up in the old folks home. Remember Pep's Team?  Now that was football.  The comments section of her post is quite entertaining and informative as well.
Sunday
Granada made two first half goals stand up at Real Betis; Levante's poor form continues after losing to Getafe; Sporting Gijon were hammered by Real Sociedad; Valencia have not won a league game in 2012 as they drew away to Racing; and Malaga got three vital points for Pellegrini with a 2-1 win over Sevilla.
I visited VCF Central to get their take on the game.  Brian felt the game could have been beyond Los Che by halftime but Aduriz started the recovery but a late equalizer kept the visitors from earning all three points.  Also seems like there were a lot injuries during the game.

Monday

Atletico Madrid beat Osasuna 1-0 as Simeone has really gotten off to a remarkable start.  Three wins, one draw, no losses and no goals given up, and has brought Atleti up to seventh.
——–
Phil Ball and I share a similar trait, missing goals at games.  Never fails when I'm watching a game I take a phone call or check twitter or hit the restroom and boom, goal.  Very frustrating.  Anyway, Phil talked about his trip to Real Sociedad and wnet on to give his take on Mirandes' miraculous run to the Copa semis and other Copa stories.
Manuel Preciado is a survivor according to Sid Lowe, but he may not survive this season at Sporting Gijon, as the goals and wins have been few and far between.
——–
Articles
Jimmy Areabi remembers 15 years ago when Ronaldo, Il Fenomeno, was the best player in the world.  As always, we forget in this era of immediacy that players came before who were just as good, just as magical as Messi and CR7 and others.
Visiting the soccer page of si.com, I see the headline, Xavi: Madrid's players bad losers, animals, so of course I'm going to click on it.  The link is five or six sentences, with a brief quote, a comment from the writer that these statements will not help the relationship between the clubs, and final note that Real Madrid has only won one of the last 14 Clasicos.  Then I read Lee Roden at El Centrocampista and get more details.
Turns out the comments were supposed to be off the record but the camera was still rolling (remember, it's always on) and then released via the proverbial mole.  I would love to be in the Spanish National Team camp in March when they get together again.  How do they handle this latest round of games?  Does it affect them this summer?  Or do they have it all under control and the media and fans blow it out of control?
Javier broke down the first of the La Liga season by the numbers.  Couple of key items:
Real Madrid and Barcelona have scored about 25% of the goals in the league thus far.
Falcao accounts for almost 50% of Atleti's goals this season.
Osasuna has conceded 31 goals this season but 15 came in two matches.
23 0-0 draws
The streakiest team has been Real Betis, "who began the season winning the first four matches, but then went 10 matches without a win including six straight loses, before winning three straight games and now are on the move for another streak not winning in the last two."
_________________________
Visit Austin at
Soccer Nomad
for more of la liga around the web
Follow @icentrocampista