WHEN THE THREE AMIGOS CAME TO WIGAN
Updated: 6 February, 2012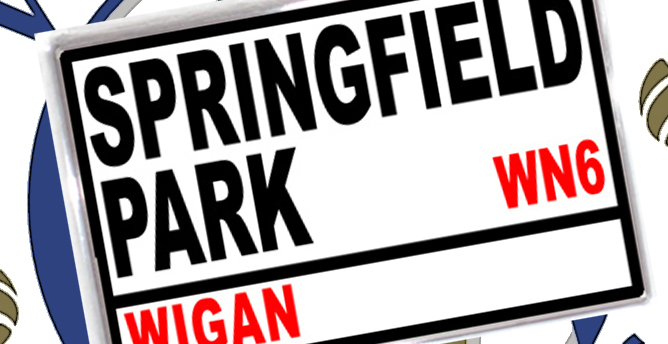 Whilst the all-conquering Wigan rugby league team were producing some of their finest years, at the town's football club, fans were more used to struggling with adversity and disappointment.
At the start of the start of the 1995/1996 season though, ambitious changes were afoot at Springfield Park, then home to Wigan Athletic.
Most notable and drawing considerable attention to the club at the time, was the arrival of three Spanish players, during a period when few foreign players graced the lower divisions of the English Football League.
Little could anyone have dreamed at the time, that  the club would eventually see one of those very players, returning to manage a Wigan Athletic team playing in the Barclays Premier League.
All three of the Spaniards who arrived, had featured for Real Zaragoza at one point or another. Jesús Seba being perhaps the most prominent, having won the Copa del Rey with Zaragoza and played for the Spanish U21 side, whilst former Zaragoza B players Isidro Díaz and Roberto Martínez joined from Tercera División side CF Balaguer.
For a lower league club like Wigan Athletic at the time, the ambitious move of signing three foreign players was virtually unheard of,
Springfield Park not exactly being the most glamorous of venues to showcase overseas talent.
The "Three Amigos" were an instant hit with the fans, showing a flair that had not been seen before at Springfield Park, or likely anywhere else in the lower divisions of English football, for that matter.
That season, Roberto Martínez became the first Spaniard to score in an FA Cup match, away to Conference side Runcorn, whilst in the league, Wigan narrowly missed out on a place in the promotion play-offs.
'The Three Amigos' attracted great interest wherever they played that season and cemented a permanent place in Wigan folklore.
Of the three players, Jesús Seba found it the most difficult to settle having struggled with the English language and he played his final game of Latics in September 1996, before eventually returning to Real Zaragoza in May 1997. He featured only once in the Zaragoza first team, spending most of the following two years with Zaragoza B.
Afterwards, he spent four seasons in Portugal with Chaves and Belenenses, before returning to the Spanish lower leagues with Orihuela, Palencia and Andorra CF.
He finished his playing days in 2009/2010 with CD Oliver at the age of 38, one of the clubs where he'd started his career in
football as a youngster.
Isidro Díaz and Roberto Martínez however, would go on to lift the Third Division title by the end of the 1996/1997 season.
Díaz, unable to hold down a starting place in the Wigan side in the Second Division, moved to Wolves on loan the following season, but only played three games. In August 1998 he moved on to Rochdale, where he played 14 games and scored 2 goals.
His spell in England ended when he returned to Spain in 1999 with a side only founded in 1995, FC Cartagonova (now known as FC Cartagena of the Segunda División).
His stay wasn't long and following in the footsteps of his former Wigan team mate Jesús Seba, he made his way to Portugal, firstly with Leça F.C. and then on to Chaves where he spent six seasons.
Díaz finally returned to Spain with Barakaldo for two seasons, before finishing his career in 2009/2010 with Tercera División side SD Laredo in Cantabria.
Roberto Martínez eventually spent six seasons with Wigan Athletic, making 180 appearances for the club, with a further 47 as substitute, and scoring 23 goals.
Following brief spells at Motherwell in Scotland and Walsall, he moved to Swansea (where he would later return as manager), as part of the side that retained its league status on the final day, before going on to win promotion the following season.
His playing days drew to a close with Chester City in 2006/2007.
Unlike his former Wigan compatriots, Roberto Martínez moved into management, starting with a successful spell with Swansea City, gaining promotion to the Championship and pushing for promotion to the Premier League.
Although he was courted by a number of clubs, including Celtic, much to the dismay of the Swansea fans, he returned to the club where
his English adventure began, Wigan Athletic in 2009.
He remains there today albeit through difficult periods hanging on to Premier League survival and interest from clubs like Aston Villa, earlier last year.
One stayed for only a year, another for not much longer, whilst the third remained in Britain, ending up managing the team where the story began.
One thing is for certain though, at least in Wigan, the locals will fondly remember the time when "The Three Amigos" arrived and
brought rays of Spanish sunshine to their football team.
Follow @icentrocampista