THE BUSBY BABES, BILBAO AND SUPER JOHN McGINLAY – Memories from Manchester United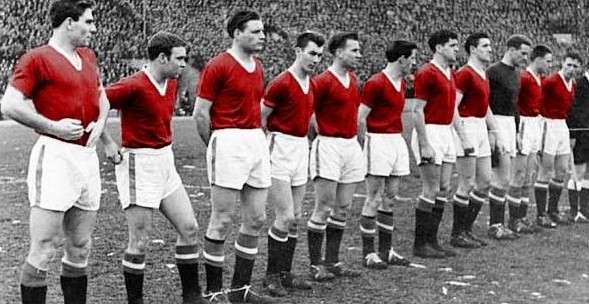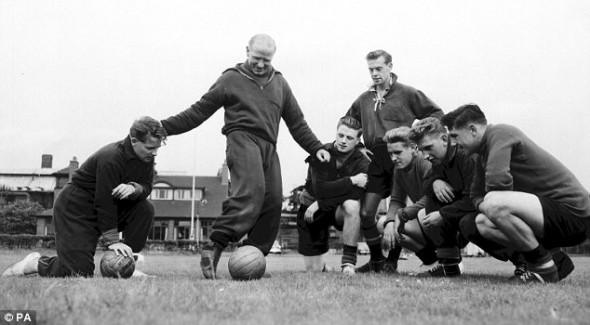 PA IMAGES
Manchester United welcome Basque giants Athletic Club to Old Trafford on Thursday night, in a Europa League last 16 tie that promises to be classic. United last played the la liga side more than 50 years ago, when the famous Busby Babes triumphed 6-5 over two legs in the European Cup, and this week's encounter is sure to stir the memories of fans of both sides.
In a special feature ahead of the much-anticipated match, we welcome former United season ticket holder, Stuart Cofield, who has a somewhat unusual story to tell of the last time he saw los leones play in the north-west.
______________________
Whether or not Manchester United believe that they are too proud or esteemed a club to be in the Europa League, rather than the Champions League, that is where their under-par performances have landed them this season. That said, with the group stages already out of the way, the competition has thrown up some rather tasty match-ups. Games that look very "European" – with the old-fashioned, pre-champions league meaning of the word – on paper, at least.
Manchester United vs. Ajax is a fixture to stir the soul of Europe-past – and the games actually provided a very enjoyable few hours, collectively (admittedly, United's poor home performance gave the tie more impetus than it should have had after the first leg) – this Europa League lark isn't so bad after all…
Next up is Athletic Bilbao. Nostalgia takes hold again. It may be tainted by my knowledge and support of Manchester United, but to me, it looks once more like a proper old-fashioned European Cup tie. There were famous tussles between Athletic and United in the late 1950s – the ill-fated Busby babes progressing at the Basque club's expense back in the '56-'57 season. The fixture also stirs up much more recent memories for me, to 2001.
As a child, I had harboured thoughts of being a journalist or a writer of some sort – until, at A-level time, I had my head turned by the thought of practising Law. This choice was also quickly shelved, when I realised I wasn't very good, began work in an office, and got used to seeing a pay-check every month.
At the time that the Champions League was in its early incarnation, European football was still an exciting, exotic arm of the game, open only to the elite. AC Milan were kings. I married in to a Spanish family and in my efforts to ingratiate myself to the Father-in-law, quickly became aware of a whole-new world of football, which sky (and channel 4, with Football Italia) was making its first tentative steps in. The words "el Classico" had not yet entered our everyday footballing vocabulary, and football trips in to Europe were still a rare and unpredictable beast.
I soon became enchanted by the team from the industrial north of Spain. The Basque Country, to be precise – a region – nay, country, that sees its history and present as a separate entity to the rest of Spain. This team spurned all that was exotic about La Liga – with an English-sounding name, Athletic Club. They sounded English, wore English-style shirts, played an English-style game – in fact, have a long history peppered with Englishness. The fact that the club has a self-imposed embargo on signing "non-Basque" players just added to my curiosity.
Around 1999 I began to write short articles, just for fun, and sent some off to the United fanzine, UWS. Flushed with the success of most being printed, and a half-page stint in FourFourTwo, I had a been bitten by the writing bug again. So when Athletic Bilbao came to a town near me on a pre-season friendly in 2001 (vs. Bolton Wanderers) – I had to be there. Surely everyone would want to hear about the Club's extraordinary success in the face of such restrictions?
For some reason, I got it in my head to call Bolton and see if they had room for a "freelance" writer, who was interested in the workings and traditions of Athletic Bilbao. "That's fine," replied the voice on the other end of the line, "We'll put you on the list – just park up in the Press Car Park and we will issue you with a Press Pass."
And so it was that I sat myself down in the press section of the Reebok Stadium, in front of Bolton legend, (super) John McGinlay (reporting for local radio) and sandwiched between reporters from Marca and the Mirror. All around me were shiny new laptops, gleaming under the lights in our lofty perch. I marvelled at the sight of those and the rather thoughtful desks and power points provided for each seat – as I dutifully unfolded my A5 note book and scribbled on it with my pen.
Athletic were formed by a combination of British Steel and Shipyard workers and Basque students returning from England. Formed with the anglicised name Athletic Club, they reportedly inherited their now-famous red-and-white striped shirts from a club member returning from Southampton, who was charged with buying new kit. He recognised the local teams colours were those of the City of Bilbao. (Many of the shirts bought found their way to Madrid, where Athletic Club had founded a youth club – later Atletico Madrid).
Follow @icentrocampista
Pages: 1 2