SOCCER NOMAD: LA LIGA AROUND THE WEB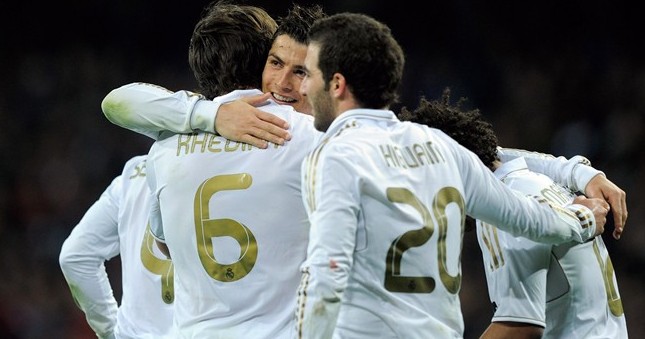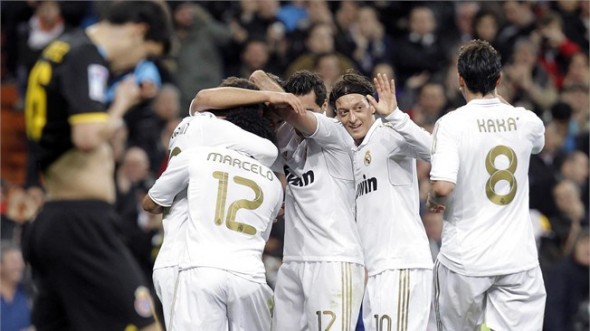 GETTY IMAGES
Saturday
Saturday night I reviewed scores and this was my tweet:
#LaLiga viewing fail 2day. catching up on amazing day of action. Rayo 2 down wins; #FCB wins w/ 10 men & Malaga smacked around Getafe.
I really wanted to watch the FCB game because Messi was suspended and I wanted to see what the team would look like. The backline was relatively normal with Masch deputizing for Puyol. Keita came in for Busquets to complete the usual midfield triumvirate. But up top was where the real changes were: Cucenca, Fabregas and Pedro. After watching the highlights and reading the reports, looks like FCB left it late but still secured the points. Keita's goal was top drawer and I am pleased to see him get on the scoresheet. Looks like Sanchez went off injured at the end and I'm still searching to see his status.
Another great post from Kxevin at Barcelona Football Blog after FCB fought back at home against Gijon to win 3-1. Kxevin praised their hunger and quality, especially Keita and Iniesta, which brought the Blaugrana all three points.
After hosting Real Madrid and giving a good account of the themselves, Rayo Vallecano welcomed Racing Santander. Rayo must have thought it was going to be their day when Racing keeper Tono got sent off for doing his Toni Schumacher impression, but the visitors actually went 2-0 up after 30 minutes before Rayo turned it around and ran out 4-2 winners.
If you have not seen the Malaga goals from Eliesu and Toulalan, then do yourself a favor and look them up. Malaga, with back to back wins, have put themselves in the running for fourth place.
Olly Dawes broke down the crunch game between Atleti and Sevilla in the race for fourth. The hosts were missing key players (Falcao, playmaker Diego and winger Arda Turan) so maybe a draw wasn't so bad.
—-
Sunday
As for Sunday . . .
Either Villarreal threw away three points or Real Zaragoza snatched them from nowhere with a late, late 2-1 win at home.
Kieran Canning reviewed the Basque Derby for SpanishFootball.info. Susaeta was the main figure, scoring both goes for Los Leones as they swept their local rivals and kept up their charge for fourth place. Looks like there was another goal not given by the linesman. Glad to see it's just not Italian (or English or Dutch or German) problem.
Valencia ground out a 1-0 result against Granada, which kept them well in front of the chasing pack.
Speaking of Valencia, Connor Andrews examined the situation for Unai Emery at Valencia, as the club consistently delivers on third place but is plainly outclassed by the Big Two. He even mentioned Emery being replaced and named a couple of possible successors. Seems crazy to think Los Che would abandon him. They may not win the title but, with a couple of more players, could have deeper runs in Europe.
Rezaur Rahman (@Rezaur_Rahman) echoed the sentiments regarding Emery in a guest post for Forza Futbol. He put Valencia fans into two groups: those that feel Emery's time has run its course and those that feel he can lead the team forward. I agree with Rezaur's final thought: I want to keep Emery, maintain stability at Valencia as you can't foresee the future with a new coach.
Madridista Mac at Real Madrid Football Blog anticipated a tough match against Espanyol but the visitors lack of pressure on the ball allowed Kaka to shine in a 5-0 victory. Praise was also showered on Higuain, Varane and Khedira. His diagrams of Real's attacking shape provided clues into how Los Merengues are able to open up teams.
—-
Monday
Monday saw Levante gain another three points with a 3-1 home win over Real Betis. There is no way Los Granotes will be relegated and maybe they really can finish in the European places.
—-
Articles
Phil Ball turned his attention to the Segunda, in particular Depor and Celta, which I was familiar with when I first started following La Liga, the days of Mostovoi, Karpin, Tristan, Makaay, and Mauro Silva.
Sid Lowe wrote about the dire situation at Real Zaragoza despite their incredible last gasp win at home against Villarreal. The club are mismanaged and may not come back up from the Segunda next season or ever.
Jonathan Cheung wrote an interesting piece for SpanishFootball.info on La Liga's penetration in the Asian market. This year they have scheduled a 12pm kick off (Spanish Time) to continue building the brand, but as Jonathan points out, the Premier League as several advantages: a nearly 20 year head start in terms of televised coverage and a language familiarity that Asians can understand. For me, the 12pm kickoff is at 6am EST, so at best I would catch it on replay.
—-
Podcasts
If you have not listened to Graham Hunter's latest appearance on Forza Futbol, stop reading this post and download it now. Hunter was on to discuss his recent book Barça: The Making of the Greatest Team in the World. He spoke at great length about the club, focusing on the time when Cruyff, who he contends is the most important person in the history of the club, returned to the club in 1988; to the transition from Rikjaard to Pep, including the club's interview with Mourinho; and the future of the club, led by Messi and the cantera. A must listen.
Dennis J. Seese wrote a review of Graham's book on Soccernet, praising him for a rich account of how the Blaugrana have spent the last 25 years building up a club which can compete on all fronts with a unified vision.
I know this is a little late but La Liga Weekly pod on 2/27 was quite good, giving context on Michel at Sevilla, the fight for fourth and the future of Real Zaragoza.
As for this week's, Andy and Sid looked at Mourinho's future and Dmitri Chygrynskiy's time at FCB among other talking points.
Elisa of Forza Football attended the Sloan Sports Analytics Conference and was able to jot down some thoughts from the soccer panel, including Drew Carey and Alexi Lalas along with "real" scouts, dealing with analytics. She also did a quick podcast that I'm hoping to listen to on my run tonight.
—-
Standings
The gap between Valencia and FCB has grown due to Los Che's terrible form in 2012, while the battle for fourth is heating up as teams have started winning and creating some distance. Levante are hanging in there, but as Sid Lowe noted on La Liga Weekly, Julio Baptista is almost back for Malaga and may push them over the line. I'm personally cheering for Bilbao but if they knock out United in the Europa League that could be a big ask. At the bottom, the Yellow Submarine are struggling to surface, while no one is safe from Betis on down.
Follow @icentrocampista