What now for Bielsa and his Lions of Bilbao?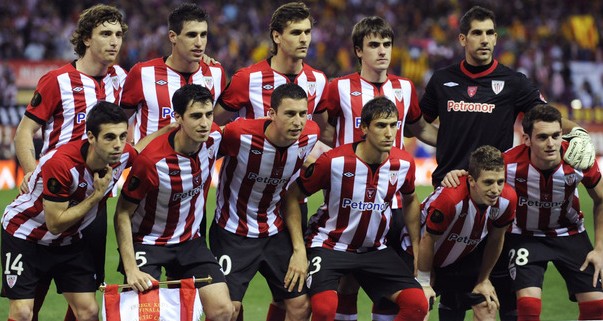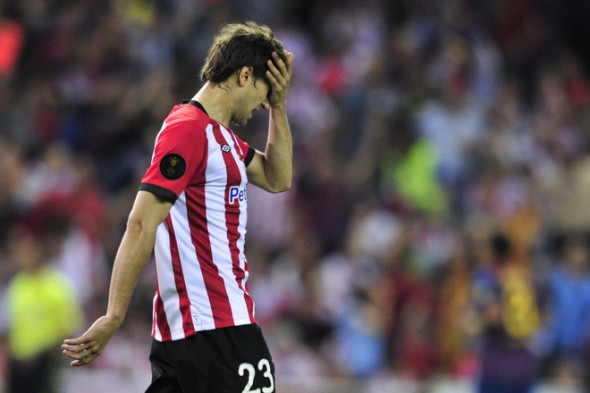 AFP PHOTO/JAVIER SORIANO
The Copa del Rey was supposed to be a showcase for Athletic, a parameter of how much the club have progressed over the course of the 2011-12 season under Marcelo Bielsa.
Players were looking for one last performance to cement a place in Vicente del Bosque's Spain squad for next month's European Championships, Bielsa was attempting to prove his tactical mettle in a battle against former pupil Pep Guardiola and, after the Europa League disappointment against Atlético Madrid two weeks earlier, the Basques were aiming to show they could battle back from adversity and finish the season on a high.
Sadly, it was not to be however, as Los Leones suffered a heavy 3-0 defeat at the hands of the Catalan giants. Guardiola went out in style as his squad delivered a classic performance in his last game as coach, thus exorcising the demons of a season that saw them relinquish their hold on the la liga crown to their bitterest of rivals, Real Madrid. Guardiola now leaves football management with an ashtonoshing 14 trophies in just four years in charge of the senior team at the Camp Nou.
It took less than three minutes for Pedro Rodriguez to set the tone of the encounter as he stroked past the outstretched left leg of Gorka Iraizoz. Athletic were two down 17 minutes later, as Lionel Messi fired in from an acute angle and when Pedro placed a sublime effort into the right-hand corner of Iraizoz's goal to make it 3-0 just before the half-hour mark, it was all other for Bielsa and his, at times this season, brilliant Basques.
An Athletic midfield that was heavily out-executed by Barcelona had to wait until the second half, and the introduction of Ander Herrera, before they began to show any nuance on the ball. By then, it was too late of course. A majestic ball from substitute Ander split the Barça defence in the 52nd minute, however Ibai Gomez was unable to steer his chip over Pinto on target.
It was indicative of Athletic's play in recent weeks and when Fernando Llorente was replaced by Gaizka Toquero in the 72nd minute, you sensed Bielsa had held aloft the white flag of forfeiture. Jon Aurtenetxe's missed header from six yards out moments later didn't help either.
Despite his club being outplayed for the vast majority of the encounter, Bielsa still spent almost the entire game in his now-signature squatting position, simultaneously displaying anxiousness and pensiveness. He looked desperate for his club, hoping Athletic would finally break through and pull a goal back.
Barcelona's goalkeeper Sergio Pinto denied any chances Los Leones had, keeping Bielsa in his sedentary stance. The 56-year old, as usual, looked deep in thought; how could anyone blame him? For the second straight cup final, Athletic trotted out a fresh starting lineup, practically free of fatigue from the previous week, and looked completely lost on the pitch. How could a team so usually full of energy look so defeated after 25 minutes?
And with that, Athletic fell to their second cup final defeat in the space of four seasons, both at the hands of Guardiola's Barcelona. Both defeats were by three-goal margins (4-1 final in 2009). Furthermore, Friday's loss means the Basques have now gone eight copa matches against Barcelona without managing to win. 18 matches in all competitions.
Any memory of the epic 2-2 draw at San Mamés earlier in the season have vanished; and after a campaign that once looked so promising, supporters now have another season without a trophy.  Bielsa is yet to indicate whether he will continue at the club when his one-year contract expires next week and Athletic will now also face advances from clubs looking to prise the likes of Fernando Llorente, Javi Martinez, and Iker Muniain away from San Mames.
The loss of two cup finals will hurt of course, but when the dust settles most fans will acknowledge Athletic have had an excellent, and at times thrilling, season.  They won a whole host of new fans in their incredible march across Europe, not least with their two-leg destruction of Manchester United, and for a number of weeks Athletic were the media darlings of European football.
The hard work now starts all over again however. The club must build on the solid foundation that has been built this season and also learn from the ample mistakes that have been made by, what is after all, a youthful squad of players.
It is likely Marcelo Bielsa will remain at the helm, which would be fantastic for both players and fans, and there is a strong chance Athletic can ward off the approaches of clubs such as Manchester City and Chelsea who are rumoured to be eying moves for Javi Martinez and Fernando Llorente – it could rest on the players themselves as the club are certainly under no pressure to sell.
There have also been rumours of potential transfers coming into the club (or returning to the club, specifically), including former Lezama graduates Beñat Etxebarria (now of Real Betis) and Aritz Aduriz of Valencia. It will not be a dull summer for Basque football either, with a number of players set to play at international level during the European Championships in Poland and the Ukraine and the Olympic football tournament in England.
Their will be pain for all those connected to Athletic Club over the next few days but this will soon subside, what they must do now however is learn from this pain and put the lessons learned into good effect. The future is bright for Athletic Club and they have the potential to achieve even more than they have done during this incredible campaign.
Follow @icentrocampista