The Expendables – Levante exceed all expectations yet again in La Liga
Updated: 14 December, 2012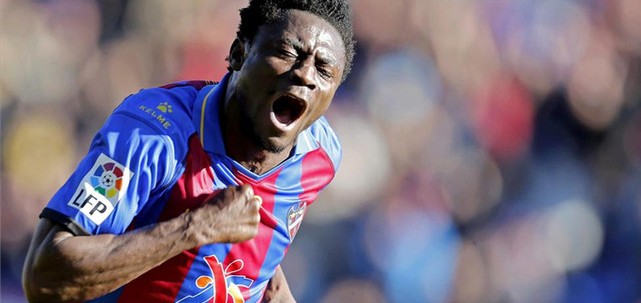 For anyone who has seen the film The Expendables, the idea of what Levante Union Deportiva are trying to achieve will not seem too dissimilar. However, this rag-tag bunch of has-beens is not led by Sylvester Stallone, but rather their own fearless and mountainous captain Sergio Ballesteros.
Last season it really started, the battlefield of La Liga posing a less daunting challenge than was predicted in what was meant to be one final assault on whatever it is they are trying to achieve.
At first Levante's eyes were firmly on consolidation, safeguarding their future in the top tier of Spanish football, but last season proved to be more of a 'Let's see what we can really do' rather than a 'Let's try not to overdo it' kind of campaign, and with a combined age of 346, overdoing it is a real possibility.
The final game of the 2011-2012 campaign saw Levante notch up a  3-0 triumph over Europa League finalists Athletic Bilbao – something which secured them an unprecedented  sixth place finish and a subsequent spot in the Europa League themselves. All this just two seasons after sealing promotion from Liga Adelante in third place.
Maybe Ballesteros and co didn't read the script, because right now, they are most definitely over-achieving. Heading towards the 16th game on the seaseon and Levante find themselves in the now-familiar position of sixth in the League, qualified for the round of 32 in Europa League and competing the fifth round of the Copa Del Rey.
They are not a team that dazzle by any means, with a self-confessed ugly style of football they get the job done. A fair bit of perspective is required where Levante is concerned.
Having come out of administration their finances are minimal hence the need to sign the travellers and veterans of Spanish football, so gloriously expensive signings are nothing more than a pipe dream to Juan Ignacio Martinez, the coordinator and coach of the rabble.
Having brought in perhaps one of the ultimate travellers of football, Obafemi Martins, on a free transfer the man they call JIM has uncharacteristically opted for youth- the Nigerian being at the tender age of 27.
Martins seems to have found his feet just as quickly as would have been demanded of him, scoring some important goals and orchestrating some very important wins with a winner against Real Sociedad and the only goal in the local derby against Valencia perhaps the most poignant so far.
Perhaps the biggest question to be asked of Levante so far has been their induction into Europe. Their Europa League campaign was going to stretch an already stretched and ageing squad to breaking point, but having qualified for the round of 32 without much fuss Martinez and his mob await their opponents with anticipation at how far they can go before enough really is enough.
In terms of shelf life, Levante as a team are way past their expiration date, players that have been thrown out a few times before and forgotten about by most Spanish clubs, but due to budget cuts have all been given a life line at Levante.
A chance for redemption and one last throw of the dice for many of them, but together offering a fresh look upon La Liga and Spanish football. Tiki taka is probably something best left with the younger generation in the withering eyes of Levante.
Follow @icentrocampista