Going down? Facts about this years relegation battle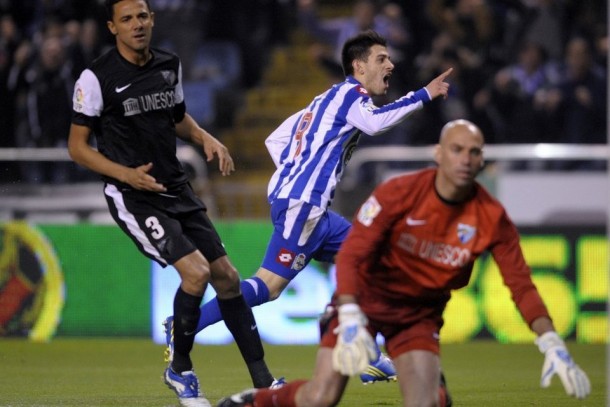 La Liga 2012/13 is only five games away from its conclusion, and for three teams in La Liga, their final destination will be 'black hole' of the Liga Adelante.
And with just five points seperating 20th and 15th, the fight to survive could not be any closer.
Osasuna, Granada and Deportivo, who are currently out of relegation zone are only one point clear of Celta de Vigo and Zaragoza who occupy 18th and 19th respectively.
So with everything still to play for here are some interesting facts and curiosities of the First Division relegation battle in Spanish football.
Last week importance
For the first time all season, two teams in relegation zone managed to pick a win and yet still stayed in relegation zone. Celta de Vigo and Zaragoza picked up vital wins in their chance to survive but it still wasn't enough to creep out of the relegation zone due to the fact that all three teams above them also managed to pick out points.
Last week was also the first time all season that five of the last six teams managed to get points in the same week. The big loser was of course Mallorca, who failed to beat Zaragoza and distanced themselves from anybody else in the table. The biggest winner were Granada after they surprised Espanyol with a 0-1 win in Barcelona, a result which managed to keep Celta and Zaragoza at bay whilst adding some distance to Deportivo.
The biggest loser
As crazy as this may sound being the biggest loser is not exactly a bad thing in La Liga. In the last millennium only twice the three with the biggest amount of defeats have suffered relegation. As it is stand now, Celta, Zaragoza and Mallorca all have suffered 19 defeats, the biggest amount of loses for a La Liga team this season.
In the 2007/08 season Gimnastic, Sociedad and Celta, suffered 24, 19 and 19 defeats respectively and they finished the season as being both three worst teams in La Liga and the biggest losers.
Before that in the 2000/01 season Oviedo, Racing and Numancia they all finished with 19 defeats and couldn't avoid relegation while being the biggest losers.
As it stands, Celta, Zaragoza and Mallorca maybe the third trio to do so in this millennium.
On the other hand, last year Rayo Vallencano, Real Sociedad a year before, Sporting in the 2008/09 season and Racing in the 2002/03 campaigns,  all managed to avoid relegation despite leading the league in defeats.
There is a good chance that any of these three teams join this list at the end of this season.
If losing isn`t that bad drawing is even better
Another curiosity when it comes to the relegation battle is the importance of drawing matches. Even that it sounds like a silly cliché, it is true in football that a draw here and there may save you.
In fact, only one team in this millennium hasn't avoid relegation while leading the table in draws and that was Racing last season and they drawed in draws (pun intended) with Osasuna who also avoided relegation with 15 ties.
At the other end of the table, in the 2001/02 season Betis qualified to play in Europe while leading the league in draws and finishing sixth. Málaga avoided relegation in the 2009/10 season by one point, their last result? A 1-1 draw against Real Madrid.
So back to this season, Deportivo is currently leading the league in draws with 10, tie with other four teams. The Galicians may have a good chance of surviving if their draw their remaining five games.
It's not easy being new
Staying in La Liga after a team is promoted from the Segunda, is one of the toughest things to do. So hard in fact, that only once in this millennium all three teams that came from Second Division have managed to remain in La Liga the season after promotion,  and that actually happened last year.
With Valladolid almost save and Deportivo having the draw factor on their favour, things are looking pretty bleak for Celta at the moment.
It's also curious that is been as hard to all three teams to go down as to stay up in this millennium, in fact, never in the 21st century have all three newly promoted teams gone down the very next year.
One true fact in all of this is that the relegation battle is going to be an exciting one that WILL go to the very last match.
Follow @icentrocampista