SANCHEZ COULD BE THE CLÁSICO KEY FOR BARÇA
Updated: 29 November, 2011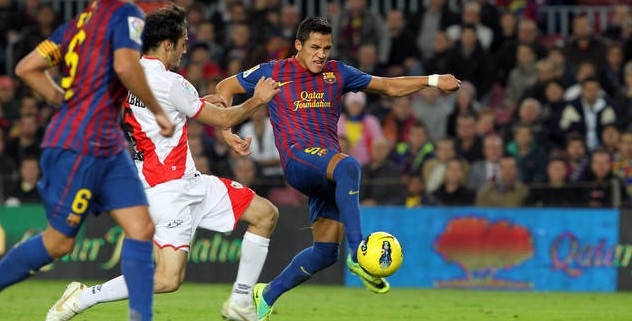 Alexis Sanchez finally arrived for real in Barcelona on Tuesday night with a brilliant brace against Rayo Vallecano.
The Chilean's first was sublime and his second was clinical, and his role in Messi's goal showed a new found comfort with the positioning of his team mates.
The Camp Nou faithful sounded out cries of "Alexis, Alexis" towards the winger in a show of respect only given to those who really merit it. It was Sanchez's first league goals for the club after arriving from Udinese, and he couldn't have picked a better time to up his game.
In a Barça team that is becoming increasingly reliant on Lionel Messi, who himself isn't quite playing at his best (though even a 70% Messi is better than most) the Catalans need someone to share some of the weight that the Argentine bears.
Real Madrid have been excellent before, but this time, crucially, they're an excellent team. Cristiano Ronaldo is no longer their only source of creativity, and everyone who pulls on the white shirt seems to be producing their absolute best for the benefit of their compatriots rather than personal pride.
With Madrid playing like this, relying on Messi will no longer be enough for the Catalans to claim the victory they most definitely need in December. Sanchez was bought purely for this purpose; to give Barça something different.
His aggression, directness and great use of width is something Barcelona only really have through Dani Alves, who himself will no doubt be more restricted to defensive duties against the merengues. An Alexis Sanchez producing something similar to his best from last year will be a formidable opponent, and indeed, a new challenge for Madrid.
If Sanchez is pitted opposite Ronaldo, the Portuguese will certainly know he has been in a battle. The Chilean fights for the ball and wins possession with an aggression and drive not found in Pedro or Villa, and his pace and trickery coupled with a touch of class can definitely cause Madrid problems.
If Barça are going to seize points at the Bernabeu his unique talents will be useful tool for doing so, and Guardiola knows it. Sanchez is in Catalunya precisely for times like this.
Moreover, a dangerous Alexis may open up some space for Villa, who has clearly been struggling for form. Grabbing a goal against Rayo will certainly help el Guaje, but he'll most likely need a combination of some room to manoeuvre in created by Sanchez on the other side, and his absolute A game to do damage to Madrid like last November.
To return to Alexis, perhaps the youngster's biggest strength is that he still has something to prove. Whilst his teammates have won more or less everything presented to them, Sanchez must work hard to let the public know he was worth the money, and can better this seemingly faultless team.
Such ambition should not be underestimated, and his rapid progression upon return from injury is an indicator that he is up to the task. If Alexis can produce his best against Madrid, he could find himself a key player in the most important game of Barcelona's season. Guardiola will hope so.
Follow @icentrocampista