THE CHOSEN ONE – Pepe Mel proves the exception at Real Betis
Updated: 29 December, 2011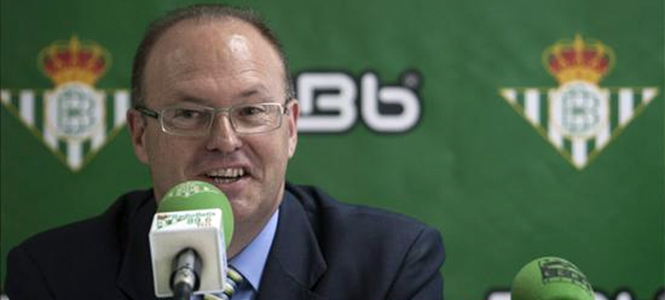 As 2011 draws to a close, presidents of three La Liga clubs have acted decisively in an attempt to halt their sides' poor starts to the season.
Atletico Madrid and Villarreal will both resume their campaigns next weekend with new men at the helm, whilst Zaragoza also seem certain to have another face in charge for their relegation six pointer at Racing Santander. The most surprising aspect of this statistic is that the team who recorded by some distance the worst run of results have made it to the Christmas break without their president pressing the panic button.
Having started promisingly in August and September, at one stage topping the table, Real Betis then strung together a set of results which almost defied belief, such was its awfulness. A 1-0 defeat at Getafe was followed by a two month spell in which they found the net just once (ironically enough, at the Bernabeu), and picked up a solitary point from a goalless draw in their Andalusian derby with Malaga.
Remarkably coach Pepe Mel continued to receive the backing of president Miguel Guillen and his board, but perhaps more crucially, many supporters remained behind the man who had guided them back into the Primera Liga in the summer after a four year absence. The Betis forwards duly refound their scoring boots when Real Sociedad visited the Benito Villamarin in late November, but it was to no avail, as the visitors ran out 3-2 victors.
The straw which would have broken many a presidential camel's back arrived the following weekend, when an inspired performance against an Osasuna side unbeaten at home somehow resulted in a 2-1 loss. At this stage the 'verdiblancos' had taken one point out of a possible thirty, and a change at the top seemed inevitable.
However Guillen continued to back Mel publically, although former Getafe coach Michel began to be heavily linked with the club, whilst other reports suggested that the only reason why Mel had not been shown the door was the cost to the cash strapped club of paying him off.
Whatever the truth of the matter, as Betis went into injury time trailing 1-0 at home the following weekend against Valencia, the relegation zone beckoned and the pressure on Mel would surely have intensified to breaking point. However what followed in the additional four minutes may well end up being the defining moment this season for both the team and its coach, with Ruben Castro's two goals earning a scarcely credible three points.
The winless streak was finally over, and duly released from their psychological shackles, the 'verdiblancos' went to the capital in their last league game before the Christmas break and returned with another three points from their encounter with Atletico Madrid.
Of course in the notoriously volatile and impatient footballing world in which we now live, Mel remains far from safe in his position. January will bring some tough challenges, not least the Seville derby on which so many beticos will pin their hopes of securing some bragging rights.
His squad is top heavy on numbers whilst seemingly low on La Liga quality, as evidenced in his reserves' recent lamentable performance against Liga Adelante side Cordoba which ultimately led to their Copa del Rey exit. Moreover should his side go on another bad run and end up spending three successive weeks in the relegation zone, his contract can reportedly be terminated without any compensation having to be paid.
However there does seem to be a very special sense of togetherness at the moment at this club. Years of existing beyond their means under the tyrannical and hugely unpopular leadership of ex president Manuel Ruiz de Lopera have taken their toll, and it will take many years of careful spending before the debts are reduced to a manageable level.
The board seem very proactive in addressing this, with a number of recent initiatives including a membership card offering discounts with numerous companies (even Ryanair have signed up), as well as stadium tours for the real die hards. Nothing ground-breaking in itself, but still better than wringing one's hands and bitching about the previous administration.
More importantly, at the recent AGM the new men in charge announced that they intend to sue some of Ruiz de Lopera's cronies, who took over for an interim period once he had relinquished control and added fuel to the financial mismanagement flames. Faced with this determination from on high to get their beloved club back on an even keel, the Betis supporters have united behind the cause, and I cannot think of another La Liga club whose board and supporters seem so in tune with each other.
With this in mind, and given the huge displays of public support for their coach even in the midst of such a dire run of form, maybe Guillen's recent declaration that 'Pepe Mel is our coach and he will finish the season with Betis' may actually be one of those rare presidential promises which does not turn out to be an empty one.
Follow @icentrocampista