CHELSEA STAR LIGHTS UP LA LIGA
Updated: 13 January, 2012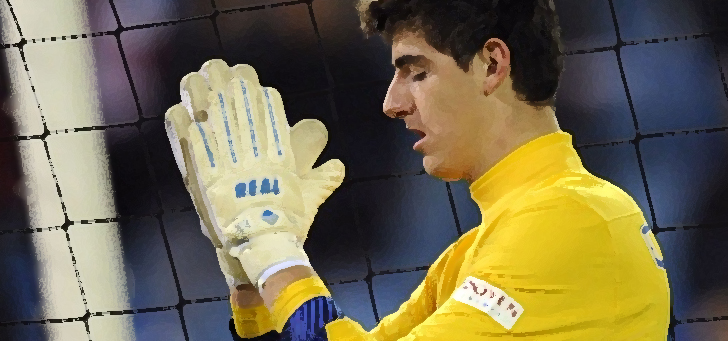 Chelsea's Thibaut Courtois is arguably the best up-and-coming goalkeeper in the world at the moment, yet has not played a senior game for the West London club.
Instead he is lighting up Spain's La Liga where he is on loan at Atletico Madrid.
The 19-year-old Belgian made the short trip across the English channel from his homeland in July last year but  almost immediately after completing his Chelsea move he was on a plane to Madrid to join Atlético.
Altéti had been interested in permanently signing the shot-stopper but were financially out-played by the much wealthier English club – while most Rojiblancos fans, were disappointed, they acknowledged it wasn't the end of the world as they still had some rather promising 'keepers already.
Sergio Asenjo has been hampered by injury of late but is still believed to be a decent prodigy while youngsters Joel and Iago have the potential to be first-team players.
Despite this, Gregorio Manzano and the board still decided it would be a good idea to make a loan move for Courtois, who obviously jumped at the chance.
The thought of bench warming at Chelsea while Petr Cech hogs the game time mustn't have been that appealing, in fact would it be to anyone? For the sake of the his career, a loan move was the logical option and a club like Atlético provided the perfect stepping stone club in terms of gaining match time and experience in one of Europe's top leagues.
Chelsea fans reading that previous paragraph will probably be nodding their heads in agreement, it's a different story for Atlético fans. There are three words in the final sentence that must tear out the heart of die-hard Colchoneros, 'stepping stone club'.
Courtois has been a solid performer for Atléti all season, remarkable considering his tender years. He's the sort of player fans would love to see at the Calderon for a long time.
Unfortunately for them, this isn't going to be the case.
It has been reported that another 12 months could be added on to the loan deal and beyond that, but by the stage and at 21-years-old, Courtois would be entering a phase in his career where game time with Chelsea would be more beneficial to his development.
As mentioned in previous Atlético articles on this site, the club isn't in a healthy state at the moment. Debt, and ageing stadium and poor results means the once proud institution is now edging closer and closer to collapse.
The case of Thibaut Courtois is a clear cut example that this is the harsh reality.
Go back a decade or two and Atlético were still one of the premier clubs in Spain, a genuine title threat. The Vicente Calderon was an appealing destination for top players while la cantera was churning out world-class products.
I wonder how the fans of the golden era would feel now, seeing their side becoming a 'stepping stone club'.
This isn't a criticism of Thibaut, it's a criticism of the management of the club that continues to bring us to our knees. With correct off-field management, there is no reason why Atléti couldn't be challenging for the title and top European honours with Real Madrid and Barça.
Unfortunately while those two sides have become powerhouses of not only Spanish football but world football, Atléti continues to take backward steps, to the point where we are now a feeder club to Europe's elite.
Courtois isn't the only example of this. If Atléti's stature had grown into what it could have potentially been, the likes of Fernando Torres and Sergio Aguero would still be banging in goal after goa,l while David De Gea would be in-between the sticks.
These are the three most high-profile examples, there would be countless others.
Rojiblancos fans still hold hope that the club's fortunes can be turned around, at least to the extent where they can enjoy seeing players of Courtois' quality join the side permanently, rather than temporarily.
It's a long way off, but not beyond the realms of possibility.
In the mean time they'll have to enjoy taking the credit for Courtois' early development when he blossoms into the world's best goalkeeper at Chelsea…
Follow @icentrocampista