LA LIGA'S BEST – The top players so far
Updated: 23 December, 2011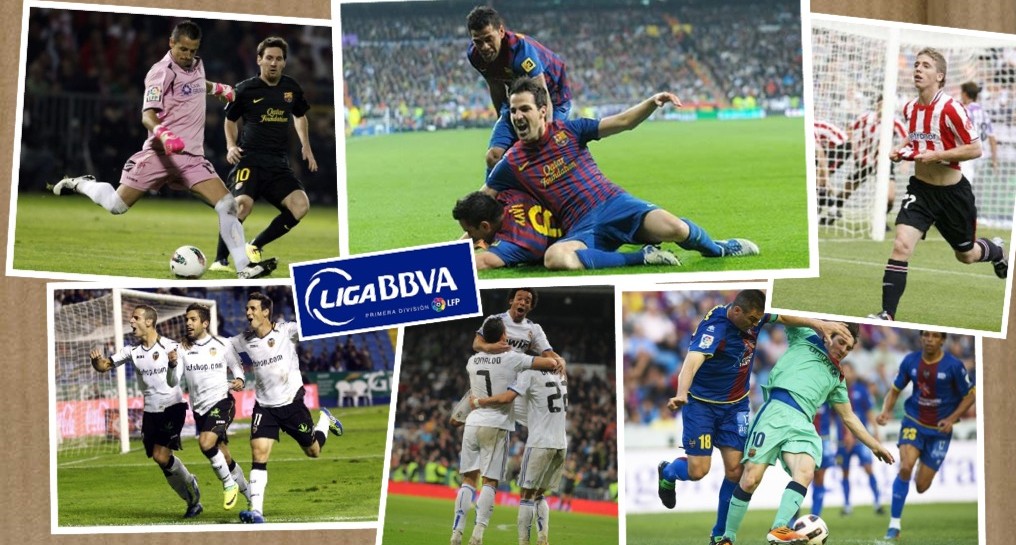 The year is all but over and with the holiday spirit in full swing, now is a perfect time to look back at the sixteen weeks of the La Liga season to pick the best eleven players so far.
Based on performance statistics from the Ranking J, who track stats that vary from minutes and goals to clean sheets per game ratio, right through to  individual participation in team goals, here are our pick for the best team of 2011:
Goalkeeper: Roberto (Granada)
To be fair, the possibility of the best goalkeeper of the season so far being called Roberto was twice as high as any other, since both Granada's  and Zaragoza's goalie share the same name. But statistical jokes aside, Roberto, the one from Granada that is, was clearly the best choice for the spot; even though Valdés leads La Liga in clean sheets with eleven and has conceded only eight goals the Barcelona goalkeeper has had a rather easy season so far, quite the opposite to Roberto.
Granada's No. 1 has conceded just sixteen goals this season, the second best record from keepers to play every game so far this campaign. He has also kept five clean sheets. However, compared to Valdés, Roberto has faced a league-high 285 shots from the opposition, and a second-high 96 shots on target. He has saved 78 of those shots, also the best mark in La Liga.
Roberto also has the best percentage of saves per shots on target and with 81,25%, is the only goalkeeper who has a better percentage than 80%.
He  also has the best percentage of goals conceded per shots and goals conceded per shots on target with a 6% and 17% respectively; leading the Ranking J goalkeeper standings with 90 points.
Bench goalkeeper Valdés (Barcelona).
A 'blaugrana' defence: Dani Alves, Eric Abidal (Barcelona), Nano, Ballesteros (Levante).
Without any competition, Dani Alves leads La Liga at the right back position. The Brazilian has helped Barça to ten clean sheets so far this season and leads defenders in assists with six, he has also scored one goal and participated in 14% of Barcelona's goals. (Best defender with 106 points).
Levante duo Sergio Ballesteros and Nano top the league at the center back positions. Ballesteros has played every minute so far this season and despite his aggressive style has committed only 12 fouls, the skipper has also played in seven clean sheets for the Valencian side and has scored a goal. Nano on the other hand, has scored twice for Levante, including a winning goal against Sevilla. The Spaniard has missed only 138 minutes this season, however during this absence, Levante have conceded six goals; in the other 1302 minutes with Nano they have allowed 13 goals.
Eric Abidal leads left back at the Ranking J just ahead of players such as Real Madrid's Marcelo and Granada's Siqueira. The main reason for this is how disciplined the French international has been on the pitch – having played over 1000 minutes, Abidal is yet to receive a yellow card yet and has made only seven fouls. Abidal has also played in 10 clean sheets this season.
Bench defenders: Héctor Moreno (Espanyol), Marcelo (Real Madrid), Javi Venta (Levante).
The best Spanish trio: Xavi, Fabregas (Barcelona) Santi Cazorla (Málaga).
Xavi Hernández leads the Ranking J midfielder standings with 111 points, no real shocker there since the Barcelona playmaker has probably been the best midfielder in Spain in the last decade. Xavi has made five assists this season and has scored the same amount of goals, despite shooting on target only seven times. The 31 year-old has participated in 20% of Barcelona's goals, has played in 10 clean sheets and has made only two fouls this season without picking up a caution.
Former Arsenal skipper, Cesc Frabegas, has returned to Barcelona in style. The culé leads La Liga midfielders in goals with eight,  and with five assists he has participated in 26% of Barcelona's goals. Cesc has shot on target 66,7% of his shots and has scored on average a goal every 2,25 shots, the best mark among La Liga midfielders.
Santi Carzola has been the heart and soul of Málaga this season and is the only player who has scored more than two goals for the Andalucian side, with four. Cazorla has participated in 30% of Málaga's goals, the fourth best mark among midfielders and the team hasn't scored without him on the pitch.
Bench midfielders: Navas (Sevilla), Verdú (Espanyol), Juanlu (Levante), Barkero (Levante).
An Angel, a Cristian0 and a Messiah: Di Maria, Ronaldo (Real Madrid) and Messi (Barcelona).
Considering it is Christmas, it is only fitting that we have an Angel, a Christian (well, Cristiano…) and a Messiah in our XI. Also, there is no surprise that when talking about La Liga strikers, the list is top by Real Madrid and Barcelona players. In fact the big two have combined for 25% of La Liga goals this season.
Although he may be consider a midfielder, Di Maria is perfect for the right wing position on this XI. Mourinho's Angel leads La Liga in assists with 13, this number is so impressive that eleven La Liga teams as a whole have made fewer assists this season and Messi is second best player with only eight.
The Argentinean (Di Maria that is)) has also scored four goals this campaign and is clearly having a MVP type of year.
Messi is always an obvious inclusion on any best eleven list. The little magician is second best in La Liga in goals and assists with 17 and eight respectively.
Messi also leads La Liga in shots on target with 42, and in goals intervention having participated in 50% of Barcelona's goals.
Cristiano Ronaldo leads our Ranking J with 142 points.  Taking in consideration that he leads La Liga in goals with 20 and has the third best mark in assists with six there is not surprise here. Ronaldo also leads the league in shots with 102 (the only player who has shot more than 85 times this season)and has shot on target 41 times – scoring on average, a goal every 2,1 shots on target.
Ronaldo also has the second best average of goals per minute, scoring every 69 minutes, (Higuaín leads strikers with a goal every 59).
Bench strikers: Higuaín (Real Madrid), Soldado (Valencia), Benzema (Real Madrid).
Follow @icentrocampista