REAL MADRID AND SOLDADO BUT NO TV TALK – The Soccer Nomad takes you around La Liga
Updated: 23 December, 2011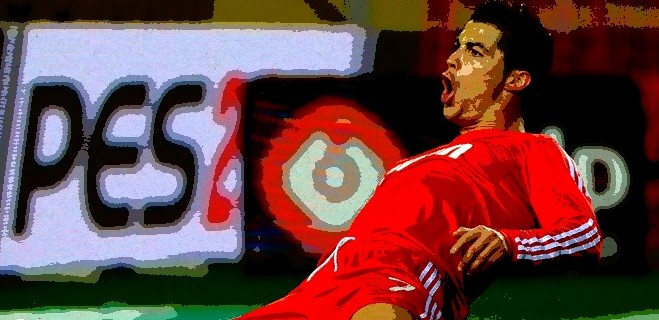 Round 17 of La Liga is behind us and it's on to the winter break. Saturday saw lots of goals, including Real Madrid's efficient 6-2 hammering of Sevilla, while Sunday saw two managers, Manzano and Garrido, inch closer to the exit door.
In the last match on Sunday, Valencia consolidated third place with a 2-0 victory over Malaga.
All in all, a nice victory for Los Che. A little shaky at times but their cohesiveness and class proved the difference. As for Malaga, I feel like the Champions League is slipping farther and farther away. Pellegrini still has a lot of work to do, and they still have to play FCB twice, and while Levante may fall, Osasuna and Sevilla may yet hold Malaga off.
Omar Al-Taie at VCF Central summed it up: Soldado's clinical finishing was the difference in the clash. Malaga caused problems but had trouble breaking down the Valencia rearguard and then couldn't finish the chances when they did.
Mike Barnes at A Different Liga analyzed Malaga's season thus far after the match against Levante. Not sure what Pellegrini and Co are selling but I'm not buying.
"I am satisfied with our level of play, but that has not been reflected in our results or our position," he said. "I would have liked to finish the year higher up. The table is very tight and we must continue working, but now we're looking to go as far as possible in the Copa."
I've watched Los Boquerones a couple of times this season and, until Sunday, had been less than impressed. Their "level of play" is not going to get them into the European spots and they will need more than a striker to turn things around. That being said, I thought Joaquin was particularly good against Valencia, rolling back the years and causing constant turmoil for Los Che. If Isco can match that on the opposite side, then Cazorla should be a little more joy in the middle. In the back, DiMichelis is a joke, especially when isolated one on one.
Maybe a cup run would make up for their inconsistent league form, but if they continue their horrible run away from home, then I'm not sure how far they'll get.
———–
Sid Lowe examined the usual frustrating, underwhelming and ultimately meaningless Atleti situation. Manzano has been undermined from the start, with the results not really following and now the team will have a new coach shortly whose job will probably be to keep them from the burgeoning relegation battle rather than a push for European place.
Phil Ball took the temperature of La Liga heading into the break. The Big Two are in charge but there are several stories percolating just below the surface: Valencia's consolidation of third; Levante's decent start; Atleti's consistent implosion; Osasuna getting beat 15-1 on aggregate by the FCB and Real yet in fifth place; Villarreal's horror show; and the congestion at the bottom.
La Liga Loca gave a quick nod to the Evil Empire and then moved on to plucky little teams spread throughout the table—Osasuna and Betis—and the teams in complete disarray—Sporting, Atleti and Zaragoza.
———–
Articles
Connor (@_ConnorAndrews) gave a quick history on the Yellow Submarine and how their current performance is affecting the club. With their loss to Osasuna, they are mired in a relegation battle without major weapons, and while they may survive, things may actually get worse next season. The loss of Villarreal would be a blow to the Primera but encapsulates the crisis in the league—teams dependent on owner infused money; teams dependent on European money; and clubs forced to sell key players that keep them from developing a solid team to contend at home and abroad.
Looks like Valencia will continue to strengthen their defense, as soccernet is reporting that van der Wiel is moving to Valencia from Ajax. Of course does this mean that Alba is on the way out?
Our very own Heath Chesters wrote a quick piece on Guilherme Siqueira who is doing great things at Granada as a left back. Maybe one to keep an eye on.
Sam (@SamIanHughes), another writer at elentrocampista.com looked into the future of the Blaugrana and told his readers about Sergi Samper, a youth team prospect that has real potential to play in the midfield. Sam warns of like for like replacement, but speaks of Samper's vision, range of passing and positioning. It could be Sergi, Oriol Romeu and another anchoring the midfield in a couple of years.
———–
Podcasts
The guys at Forza Futbol had Vaishali Bhardwaj (@VaiBhardwaj) on to discuss a wide range of topics from the English view of La Liga, Spanish players in the EPL, and the striker possibilities for La Furia Roja, which seems to be the second most consistent story this season beyond the gulf in the TV contracts between the Big Two and everyone one.
Graham Hunter did a piece about Athletic Bilbao for Revista, which featured their English roots, San Mames, and background for Pichichi and Zarra awards.
______________________
Visit Austin's fantastic website, the Soccer Nomad online and follow him on Twitter at @AustinLong1974
Follow @icentrocampista