EL DREAM TEAM – Barça's class of '92 two decades on
Updated: 16 January, 2012
Ronald Koeman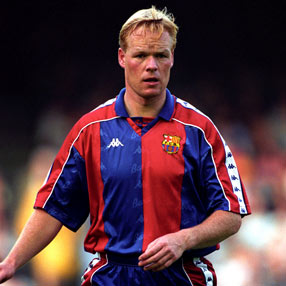 The scorer of the winning goal in extra time, Koeman was as good as it gets throughout his career with free kicks from just outside the box.
He had joined Barça in the second of Cruyff's eight seasons in charge, having spent most of the 1980s in the Dutch league, and he returned home in 1995 to finish his playing career with Feyenoord.
After spells as assistant manager of the Dutch national team and as number two to Louis van Gaal at Barcelona, Koeman's managerial career began promisingly, with success on a modest budget at Vitesse Arnhem.
However whilst he has done reasonably in his home land, winning titles with Ajax and PSV, his spells with Benfica and especially Valencia were pretty disastrous. It is therefore no surprise to find him back as coach of Feyenoord for at least the rest of this season.
Albert Ferrer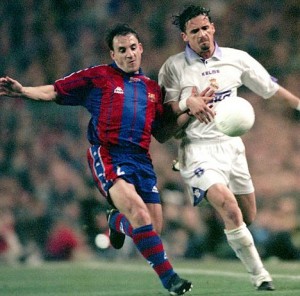 'Chapi' was one of only two members of the starting eleven that evening to have come through the ranks (no prizes for guessing the other one).
He made the step up from the B team in 1990 after acclimatising himself to La Liga with a brief loan spell at Tenerife, and remained a regular at right back for club and country right through until 1998.
The arrival of van Gaal signalled the end of his Barca carreer, and he then headed for Stamford Bridge where he was somewhat less of a regular starter.
The quality of this finish (40 seconds in) belies the fact that it was one of only two goals he scored in nearly 300 senior appearances for the two clubs.
Nowadays after a brief and relatively unsuccessful spell as Vitesse Arnhem's coach, 'Chapi' is most often seen on Sky Sports' Spanish football coverage.
Fernando Munoz Garcia (Nando)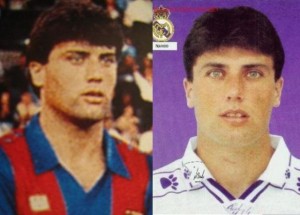 Of all those to have started in the final, Nando's profile since retirement has perhaps been the lowest.
At the time he was with Barcelona on a two year loan from Sevilla, but when the Andalucian club wanted him back that summer, he bought out his contract and joined Real Madrid.
He ended his fifteen year career with Espanyol, thus making him one of an elite band to have played in the top flight for both of the big two as well as both Barcelona based clubs.
Nowadays Nando is back in his home town of Seville, and remains resolutely off the radar, investing in a few local businesses but generally very much out of the spotlight. Perhaps this May he will be tempted to break his silence, if only to reminisce about that famous evening.