EL DREAM TEAM – Barça's class of '92 two decades on
Updated: 16 January, 2012
Jose Maria Bakero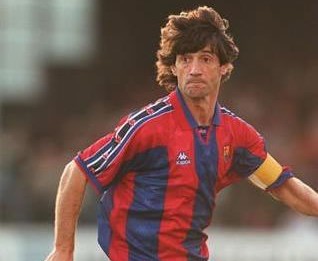 Bakero will always have a special place in my heart, firstly because of the barnet but mostly because he remains the only European Cup winner to date to pull on the green and yellow of my beloved Canaries as a player.
Sadly it was just for one pre season game in the summer of 1997 against Cambridge United, and then manager Mike Walker decided he was not good enough for a contract. Oh, the shame.
He promptly ended his sixteen year playing career, which he had divided equally between Real Sociedad and Barcelona, and two years later he reappeared on the coaching staff of Mexican side Puebla.
Since then Bakero has had mixed success as a head coach, a brief spell at Real Socidead not really working out, and he is now onto his second team in Poland, Lech Poznan.
At least he still has the barnet.
Hristo Stoitchkov
Talking of forceful personalities, they did not come much more combustible than this Bulgarian forward.
His phenomenal goal scoring record at CSKA Sofia attracted the interest of Cruyff and he moved to Spain in the summer of 2000, but within weeks he was watching from the stands for two months having stamped on a referee's foot in a Supercopa 'clasico' encounter (you can see the before and after here ).
His career peaked in 1994, when he was named European Footballer of the Year, and he eventually ended his career in the US after a rather nomadic five years split between his homeland, Saudi Arabia and Japan.
In 2003 Stoichkov returned to Barcelona as a forwards coach, but it was not long before his national team came calling, a role which he fulfilled largely unsuccessfully and which was predictable punctuated with fallouts with officials and his players, most notably Stiliyan Petrov.
A 0-0 draw against the mighty Albania proved the final straw in 2007, and since then he has experienced more failure with Celta and South Africa's Mamelodi Sundowns.
However he remains a legend in his home country, which is presumably why Litex Lovech have been persuaded to take a chance on him as their new coach last week. Stand by for more tantrums on the touchline.
Julio Salinas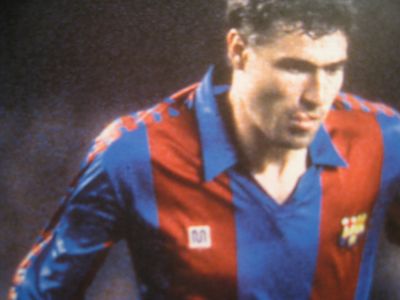 I never quite understood why Salinas was in the Dream Team, and I am sure that if he were around today, neither Guardiola nor Del Bosque would be playing him – think poor man's Fernando Llorente.
However there is no denying his phenomenal goal scoring record throughout his nineteen year career for both club and country.
212 goals in nearly 500 appearances for Bilbao, Atletico Madrid, Deportivo la Coruna, Sporting de Gijon and Deportivo Alaves tells its own story, and his record for the national side was not too shabby either.
However he will be forever remembered by a generation of Spanish football fans for this miss here (35 seconds in) which many feel would have clinched victory in the 1994 World Cup quarter final against Italy, back in the days of their 'perennial underachievers' tag.
However although his international career ended soon afterwards, he kept on playing in La Liga until 2000, with a brief detour to Japan.
Since then he has concentrated in television work, most recently alongside the excitable Andres Montes on La Sexta's La Liga coverage. And here of course. Love that wink, Julio.