EL DREAM TEAM – Barça's class of '92 two decades on
Updated: 16 January, 2012
Josep 'Pep' Guardiola i Sala
I wonder what happened to him……..joking aside, it is interesting to note that in his playing days, Guardiola's star post 1992 was not always as high as it is nowadays.
47 caps for Spain over a nine year period is hardly the record of an indispensable asset, and his time in Italy was far from a success both on and off the field.
And as for going to play in Qatar…….but of course all this is now forgotten as he sweeps all before him in charge of one of the finest sides ever to have graced the planet.
'Eusebio' Sacristan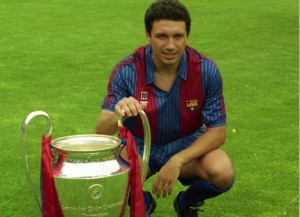 Eusebio was one of Cruyff's first signings when he began to assemble his Dream Team, joining from Atletico Madrid.
He remained a mainstay of the side until his last two seasons, and then moved on to Celta before finishing his playing career in 2002 back where he had started it, with his hometown club Real Valladolid. By 2003 he was back in Barcelona as number two to Frank Rijkaard.
When a spell as coach of Celta did not work out, he was out of the game for a season before returning as Barcelona B coach last summer when Luis Enrique left for Roma.
Juan Carlos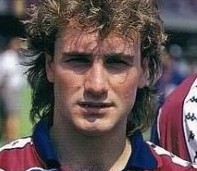 Another lesser light of the side, and one who has no coaching job on his cv since retiring in 1999 save for a one off role in charge of a representative Castilla y Leon side in 2002.
However the left sided defender's life is no less stressful at the moment, as he struggles to sort out the perilous finances of Real Valladolid, with whom he spent a total of nine years at the beginning and end of his career. He is also President of the club's Veterans Association.
Michael Laudrup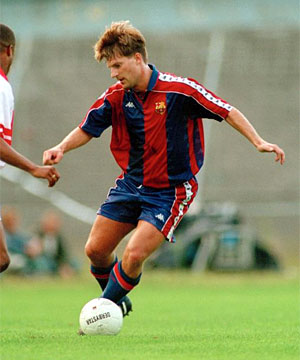 One of my all-time favourite players, Laudrup was always destined to stay in the spotlight once a stellar playing career had ended in 1998.
However his coaching career has never come close to the accolades which he received as a player, winning five league titles in a row with Barcelona and then Real Madrid.
He led Brondby to the double in 2005, but left the following summer, and stayed just one year at Getafe before resigning in July 2008 – this was despite taking the unfancied Madrid side to the Cup final and the quarter finals of the UEFA Cup.
One suspects that he was just waiting for that big club to come calling, but it never happened, and since then he has been sacked by both Spartak Moscow and more recently Mallorca.
There remains the fear that his forceful personality will continue to dissuade those he wishes to impress from giving him the big job in Spain he so obviously covets.
Mind you, I guess Mr Mourinho is hardly a shrinking violet…..
Follow @icentrocampista