When the Maradona brothers came to town
Updated: 30 January, 2012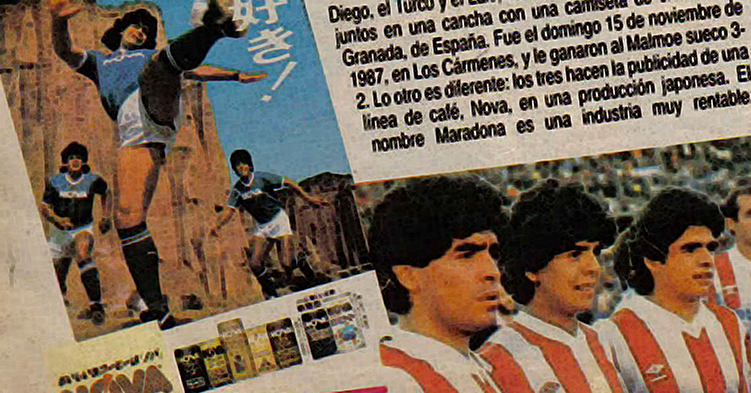 Here at El Centrocampista, we're big fans of Spanish football history, in fact you probably already knew that.
We love nothing more than delving into the past, looking at how the game in Spain has grown, learning more about the clubs, their backgrounds and their players.
Sad stories, joyous occasions, important points in history… they're all tales we love to tell.
This one however, is one of those quirky occasions that's little known, but contains one of the most infamous footballers of all time… Diego Armando Maradona.
At the peak of his stardom, as much to do with his outstanding ability and performances at the 1986 World Cup in Mexico, not least the notorious "Hand of God" incident, Diego Maradona was already global name in football.
Sponsors were queuing up to get him involved in promoting their latest products, just as is common place today with the likes of Cristiano Ronaldo and Leo Messi.
Diego, together with his brothers Hugo (El Turco) and Eduardo (Lalo), appeared in adverts publicising a Japanese brand of coffee, Nova.
The ad campaign was a resounding success commercially for the Japanese company.
Having just signed Lalo Maradona, this gave Granada CF a novel and very lucrative idea… why not get the three brothers together for a friendly match.
So, on Sunday 18th November 1987, they hosted a game against Swedish side Malmö FF, at the original Los Carmenes stadium in the centre of Granada city.
The match was the only time the three Maradona brothers appeared together in a live televised game. The Malmö FF team was also managed at the time, by none other than Roy Hodgson.
A lively encounter, thrilling the crowd as the brothers regularly linked up in attacking moves throughout the game. Diego dazzled with his full repertoire of tricks and runs at the Malmö FF defence.
Lalo Maradona marked his arrival in Granada with a goal, aided a magical assist by his brother Diego, who would cap the game himself with a precision free-kick from the edge of the box. Granada celebrated the day with a 3-2 win.
The ample TV revenue for this unique occasion netted Granada CF 20 million Pasetas. A huge sum at the time for television coverage of a single match in Spain.
Sadly however, Granada CF would finish the season with relegation from the Segunda to Segunda B. Lalo would also depart, moving on to a variety of clubs around the world.
Granada fans will always remember the occasion though, "El día de los tres Maradonas" – the day of the three Maradonas.
Follow @icentrocampista