TITI'S FINAL FAREWELL – Re-evaluating Thierry Henry at Barcelona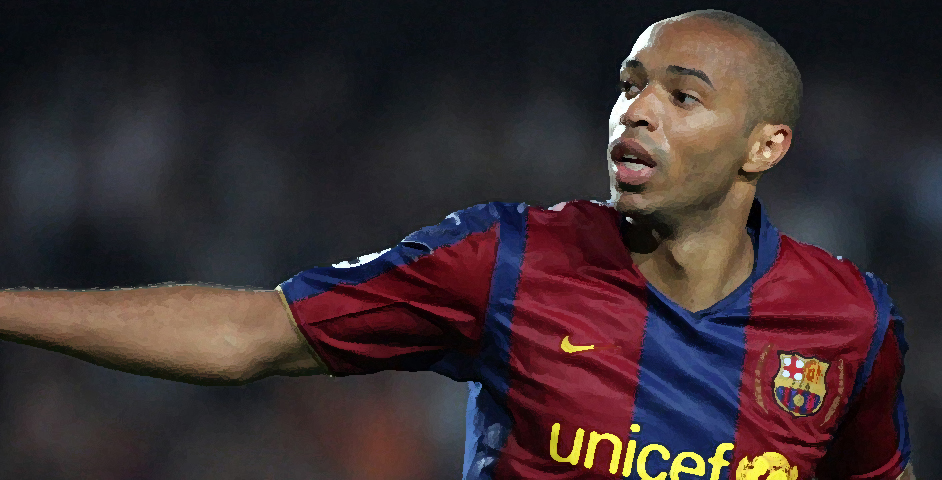 As twilight draws ever closer on Thierry Henry's career, the French legend is preparing for one last hurrah at the place that made him an icon.
In pulling on the Arsenal shirt again, Henry gains the dubious honor of becoming the only player I can think of to play for a club that already has a statue of him. More importantly, he's taking a huge risk that could either re-affirm his status as one of Arsenal's true greats, or dampen his until now perfectly intact legend in London.
When Henry last played in a competitive match at the Emirates, it was during a short cameo appearance for FC Barcelona in the Champions League. Reactions to his short and admittedly lacklustre performance were mixed.
Arsenal fans were happy just to see their idol on their home pitch for what looked to be the last time, and applauded him throughout. Barcelona supporters on the other hand were less than impressed with the way in which Henry seemed to forget he was even playing for the blaugrana, spending more time applauding the home support than kicking a ball.
In truth the short cameo was representative of the majority of Henry's last season at Barcelona. After picking up an injury in the buildup to the Champions League final the year before, Henry never really seemed to regain any of his old pace, and was eventually displaced in the Barça team by the young, and at that point relatively unknown, Pedro Rodriguez.
As a result, many Barcelona fans, in a display of short-sightedness patent amongst culés, have  reduced Henry to the status of a failure, someone who should have done better at the club but never did. This is simply not true.
I want to remind Barcelona supporters that Henry was a vital part of the most succesful FC Barcelona team of all time, equal in importance to Xavi Hernandez, Samuel Eto'o or, dare I say it, Lionel Messi.
If you don't believe me, take a look at the statistics as they speak for themselves. During the 2008-2009 season Henry amassed 29 league appearances with 19 goals. Not bad for a 30 year old.
In the Champions League, Henry proved his desire to win the one major competition that had always evaded him. Henry made 11 appearances for Barcelona, scoring six goals along the way. Henry finished the tournament as Barcelona's second top goal-scorer, behind only Lionel Messi. Again, not bad for a 30 year old, and certainly not a failure by any means.
Statistics only reveal part of the story, and it was the kind of goals Henry scored that season that truly made it a standout year for the Frenchman. In the Santiago Bernabéu, Henry gave Real Madrid, and particularly Sergio Ramos, a football masterclass, tearing the defender to pieces any time he charged at him, with a stridge reminiscant of a gazelle and a lethal finishing touch.
Henry scored his first after a smart run that had Ramos flumuxed, and slotted the ball calmly past Casillas at the far post. His second was the most impressive: latching on to a crossfield pass from Xavi Hernandes, springing the offside trap, then cheekily lobbing the on rushing Iker Casillas, who clumsily clattered in to Titi as the ball rolled into the net.
Henry had a knack at Barcelona for saving his best for the very best. His hat trick against Valencia that year established Barcelona's dominance in the league, and proved he could be the main goal-scorer and not just supplementary in Catalunya.
In Europe, a vital away goal in Lyon spared Barça's blushes, and allowed them to approach the return leg with a vital advantage. All in, during the 2008-09 season Henry would play a crucial part in a record-breaking Barcelona front line, scoring over 100 goals between himself, Samuel Eto'o and Lionel Messi, and ensuring Guardiola's team secured an historic treble.
If there is one criticism to be had it is that Henry's career at Barcelona was too short. Had the Frenchman arrived in Catalunya a couple of years earlier, I have no doubt he would have been able to sustain more than one season of the quality he displayed during his second.
None the less, his first year at the club, despite being remembered as below par, still saw him finish at Barça's top goalscorer that year with a total of 19 goals.
In his final year in the Catalan capital, major injuries marred his season, making it more difficult to pick out positives. Yet there is still one standout moment I can recall. In march 2010, Barcelona were struggling against a resurgent Valencia team in a fixture vital to the blaugrana's title hopes. At half time, Guardiola called upon the veteran Henry from the bench and asked him to change their fortunes.
Titi was played through the middle, working more as a holdup player and not relying on the pace that was leaving him rapidly. The result was game changing, with the Frenchman providing an important focal point in attack and bringing Lionel Messi into the game.
The Catalans eventually won 3-0. Henry's performance was so impressive it lead the normally conservative and realistic zonalmarking.net to claim that "The long-term outcome might be the rebirth of Thierry Henry."
Ultimately, it was too little too late for Titi at Barcelona, and in truth he had already made his mind up to leave at this stage. It was however a vintage Henry performance that has since been forgotten in hindsight, and should be remembered for its importance to the Barcelona league victory that year.
It could also be an indicator of how Henry may best be used by Arsene Wenger this year during his return to London. In the pace and physicallity of the English Premier League, Henry would be far better served to rely on his class and vision, which have never left him, than become frustrated by failing to out run players that he would have easily beaten in the past.
If Wenger keeps this in mind, Gooners may well find that Henry can be a key player in their hopes this season, one last time.
Returning to Barcelona, I ask those who criticised Henry's time in Catalunya to pause for thought.
Football supporters can often be reactionary, with little memory and even less reasoning. Thierry Henry should be remembered as a key cog in a legendary Barcelona team, and a true professional who still managed one last big game performance even when his body was failing him.
I hope Arsenal supporters will be less harsh on the legend, and that they will have realistic expectations not based in the past, but rather in hoping that Henry does what he does best: outthinking, not outrunning his opponents.
Follow @icentrocampista