MISERY FOR MOLINA AS THE VILLARREAL REVIVAL RUNS AGROUND
Updated: 24 February, 2012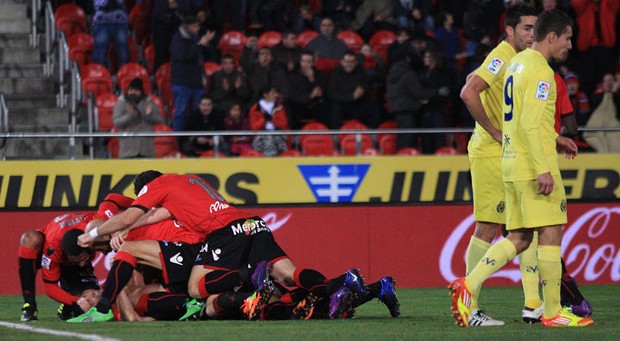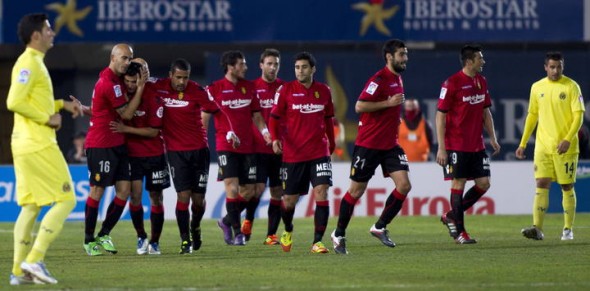 EFE
Just as things were beginning to get comfortable around Vila-real and supporters were starting to dream of a return to Europe, Villarreal returned to earth—or at least the bottom places of the table—with a crash. Nilmar had been ruled out earlier in the week with a muscle injury, Ángel Lopez was a late scratch with illness, and the latter absence in particular turned out to be huge.
Pereira's runs down the right both showed Oriol's defensive limitations but just as importantly kept him from being able to play as far forward as he would have liked. With our left back removed from the equation, and Mario Gaspar at right back no offensive threat and no match for the speed of Chori Castro, Villarreal had no width. Villarreal's best scoring chance of the game came within the first ten minutes, Ruben being put through on the left side but his shot was parried by Aouate.
After that, the Submarine hardly threatened. Cani and Camuñas are not wingers, tending to pinch inside at every opportunity, and as for Borja Valero, he was clearly affected by the whistles and jeers directed towards him whenever he touched or came near the ball.
Hardly fair to the ex-Mallorca man who left when the club couldn't sign him, but he had his worst game of the season. And, unfortunately, so did Diego López. Mallorca was clearly on top during most of the first half, but had failed to put away several good scoring chances, so Submarine fans were hoping maybe we could get to halftime without conceding a goal, regroup, and play a better second half. It wasn't to be.
As another Villarreal attack broke down in the clogged midfield, a speculative pass down our right into space searching for the lone attacker Hemed was being covered by Gonzalo, and Hemed would have been running diagonally away from goal had he gotten to the ball. But inexplicably, Lopez came out of the penalty box, took Hemed down, and was fortunate to only see a yellow card.
And from the resulting Gonzalo Castro free kick, Lopez didn't come out to parry the ball and Marco Ruben (!), the nearest Villarreal player to Victor, tried a speculative clearance. He missed, and Victor gleefully headed home to give Mallorca a deserved lead.
Molina removed Camuñas and brought on Martinuccio to start the second half, an attempt to introduce some pace and give Marco Ruben some help up front, but this never had time to produce any dividends. Seven minutes into the second half Mallorca had a corner, and Lopez tried to punch it away and failed, the ball rebounding to and being rifled home by Crespi.
At 2-0 it was already over, with Villarreal possessing the ball to little effect and Mallorca happy to wait for the errant pass, pounce and play the ball over our midfield into space on the wings for Pereira and Castro to lead another counterattack. A third goal came from open play, of all things, Castro crossing to Victor who finished well, and a fourth from another corner. Four goals, four Castro assists.
Pretty much everyone on the pitch in yellow had his worst game of the season, and truth to tell coach Molina did too. His inexperience showed.
Caparros clearly set out his side to clog the center of the pitch and hit the Submarine on the counterattack, and Molina's team selection played right into his hands.
Hindsight is 20-20, but maybe Molina should have tried Hernán Pérez at right back. He at least would have had the speed to deny Castro as much space, and would have provided some width down that side. Perez is not a defender by trade, true, but it's not as if he needed to win a lot of one-on-one challenges, just keep up with the islanders' winger and slow their counterattacks down. Mario did none of that.
Cani had yet another disappointing game at a time when his experience was needed more than ever. In Rossi's absence, he is the one player who can really run at defenders and create passing opportunities in the box, but he has reverted to looking for fouls far too easily and in this game played too far inside.
Perhaps this was just a one-off game, everyone having a bad day, but with three of Mallorca's four goals headed from set pieces, and with Fernando Llorente and Athletic Club coming to town, it's imperative that our soft set-piece defense, which has been a problem all year, get tightened up quickly. And the team now knows getting out of relegation danger isn't going to be as easy as our recent successes had suggested!
________________________________________________________________
Follow the adventures of the Yellow Submarine with Allen and crew at VillarrealUSA.com
Follow @icentrocampista