THE DEATH OF DEPOR – A meteoric rise and catastrophic fall in la Coruña
Updated: 20 February, 2012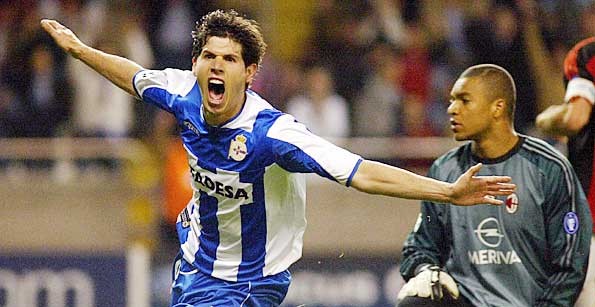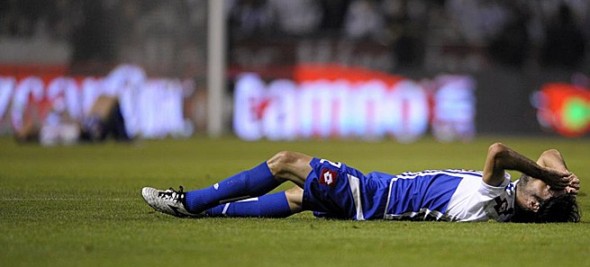 May 20, 2000. Deportivo la Coruña are crowned champions of La Liga, Javier Irureta leading 'SuperDepor' to their first ever title.
The 1999/2000 season table was a peculiar one by today's standards, as the top 10 included Rayo Vallecano, Valladolid, Celta Vigo, Alaves and Real Zaragoza, who finished in third place  above Real Madrid by one point.
But the season belonged to Depor, and it kickstarted what was to become a fairytale story for the smallest team to ever win the La Liga. The 'SuperDepor' squad contained some incredibly talented players, bringing superb attacking football at a fast pace, jam packed with flair players like Djalminha, Juan Carlos Valeron and Fran who supplied the ammunition for deadly duo Diego Tristan and Dutchman Roy Maakay. It also wouldn't be a Depor article without mentioning the Brazilian anchorman Mauro Silva, who epitomised everything about Deportivo in this era.
Despite Depor winning La Liga in 2000, I think most people will think of La Coruña during their remarkable run to the UEFA Champions League semi finals in the 2003/04 season. The group stages weren't that impressive for Depor, as a Roy Makaay-less side stumbled into the knockouts, qualifying above Dutch giants PSV Eindhoven by just a goal.
It was when they reached the knockout stage that people started to sit up and take notice of Irureta's side. They knocked out Serie A powerhouse Juventus 2-0 on aggregate, only to meet reigning Champions League holders AC Milan in the Quarter Finals.
Walter Pandiani got Depor off to a dream start, but it all went downhill from there, as Kaka, Jon Dahl Tomasson and Andrei Shevchenko ran riot, and Depor were staring down the barrel on the back of a 4-1 first leg defeat. Nobody gave Depor a chance back at the Riazor but it turned out to be a night that nobody will ever forget.
Sit back and watch an unbelievable night of football in La Coruña.
Depor had done it. The most incredible comeback in Champions League history. They had overturned a 4-1 deficit to come through 5-4 on aggregate. The journey was to end in tears in the semi finals however, as Jose Mourinho's FC Porto side went through 1-0, going on to win the tournament, but it was Depor that everyone was talking about.
Times have changed drastically for the club since those glories nights however, and the Galicians suffered a catastrophic relegation from the top flight last season A horrendously disappointing season ended in a 2-0 home defeat to Valencia, as Roberto Soldado fired home in injury time to seal their fate.
Their undoing wasn't their defence. It was up front. A measly 31 goals were scored in 38 games, including EIGHT 0-0 draws and the 2-0 defeat was the 21st 'no score' from Deportivo in the season. A team once known for attacking football couldn't hit a barn door with a banjo last term. It was horrible to see one of most talented yet least heralded attacking midfielders in European football, Juan Carlos Valeron, subjected to tears as the rest of his team mates led motionless on the pitch.
The setting of one of the greatest nights of European football in history had become awash with tears from fans and players alike. Their early 21st century dream of rubbing shoulders with Europe's greatest was a bold one, and one that was coming off. They had won in the back garden of some of the biggest teams in football and drawn as many plaudits as possible.
But at the start of the 2011/12 season they faced the long road back to La Liga, never mind the Champions League, and many people were predicting the end for the club.
Happily for Depor and their fans, the club have had a fantastic season thus far and sit five points clear at the top of la segunda, looking good to make a quick return to the top table of Spanish football. It maybe a long way from the heights they reached just over 10 years ago, but it is a start and you can bet the site of Super Depor back among the big boys will be welcomed by the majority of la liga fans who remember them at their glorious best.
Follow @icentrocampista