DEAD MAN WALKING
Updated: 24 December, 2011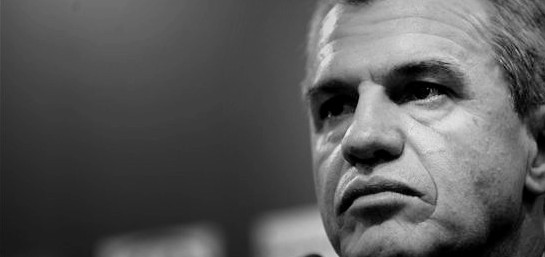 Javier Aguirre's turbulent thirteen month spell as coach of Real Zaragoza seems destined to end once the Christmas weekend has passed, with the embarrassing Copa Del Rey exit against Liga Adelante side Alcorcón proving the final straw for much maligned president Agapito Iglesias.
The only real surprise is that Aguirre has lasted this long, and a lot of that has to do with the unpopularity of the man who chose to make him the highest paid manager in Zaragoza's history last November.
Iglesias is seen by most supporters as presiding over the darkest days in the club's 89 year history, and thus a lot of their ire has been reserved for a man under whose guidance the club have fallen so deeply into debt that they had to go into administration last summer.
Indeed there are many who feel that the club may even go into liquidation at the end of the current campaign, with the only means of raising the funds even to last until then being a massive squad clearout in the January transfer window.
Five of the club's on loan players seem certain to be sent back to their parent clubs – West Ham winger Pablo Barrera will no doubt see east London in a different light after the turbulent few months which he has endured.
Meanwhile those out of contract in the summer, including first team regulars Lafita and Ponzio, will move on for nominal fees.
The biggest saleable asset would seem to be giant 'keeper Roberto, who was signed by the club for 8 million euros in the summer by a 'third party', thus circumventing the restrictions to which clubs in administration are expected to adhere.
However should a deal be agreed (and there are apparently several Premier League clubs who are sniffing around), the money will go directly to Iglesias, amazingly the man behind the 'third party' company, who seems coincidentally to have struck up a very close friendship with infamous 'super agent' Jorge Mendes.
With third-party ownership still very much allowed in Spain, Mendes has already attracted attention with his involvement in the staggeringly high figure paid by Atletico Madrid for Colombian striker Falcao, and it looks like he may be about to get involved in another nice little earner.
Despite being apparently about to make himself some money too, it is rumoured that one of the reasons why Iglesias has left Aguirre in charge for so long is that the Mexican has refused to accept a payoff for any less than the full amount owing to him for the rest of the season, around 650,000 euros.
However it would not be entirely out of character for Iglesias to fire the Mexican and then leave him to pursue compensation through the courts, as Shaktar Donetsk have found out to their cost in the case of their former Brazilian midfielder Matuzalem as explained here.
Whatever he ends up doing, one thing is for sure – Iglesias needs to come up with something miraculous over the next few months if he is to have any chance of redemption in the eyes of the club's loyal fans. Backed into a corner like never before, he has unsurprisingly opted for the populist approach, apparently beginning negotiations which could culminate in a third spell at the club for coach Victor Fernandez.
It was Fernandez of course who led the 'maños' to the greatest achievement in their history, the 1995 Cup Winners Cup final triumph against Arsenal. He returned for a second spell in 2006-7 and led the club to a sixth placed finish, before a run of bad results saw him depart in January 2008. He would undoubtedly be welcomed by the fans, but would probably be wise to let his head rule over his heart at the moment.
Meanwhile Aguirre will no doubt find himself another club in due course, although his reputation has taken a bit of a knocking in recent years. After starring roles as coach of national and club underdogs in the shape of Mexico and Osasuna, he was handed the poisoned chalice that is Atletico Madrid, and lasted not a lot longer than most of his predecessors.
He then had a much less successful second spell with the Mexican national side, before pitching up in Aragon when things were already beginning to go very badly both on and off the pitch.
The 'maños' lived to fight another day in La Liga thanks largely to the outstanding midfield duo of Gabi and Ander Herrera, but when both departed in the summer and the extent of the club's financial problems became apparent, it was always going to be an uphill task to last another season in the top flight.
Indeed right now most Zaragoza fans are simply hoping that the club is at least still in existence to begin the 2012-13 season in the Liga Adelante.
Follow @icentrocampista