GARRIDO GOES AS VILLARREAL SLUMP AGAIN
Updated: 22 December, 2011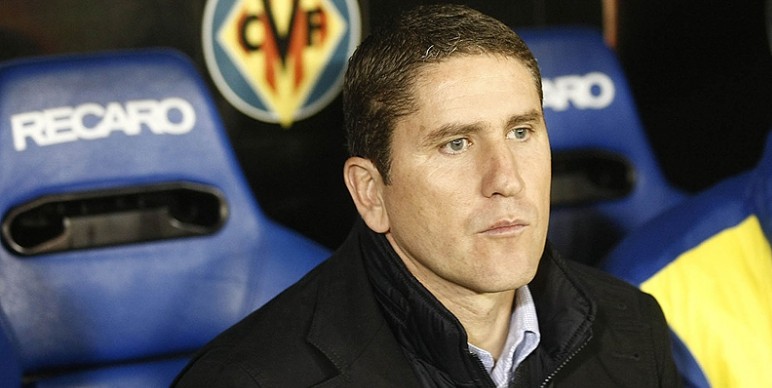 Another eventful week in Vila-real has ended with the sacking of Coach Juan Carlos Garrido.
His dismissal was announced immediately following last night's 2-0 home defeat by Segnda B club Mirandés in the Copa del Rey, but the handwriting was on the wall following the weekend's loss at Osasuna.
That game had begun well enough, with Villarreal looking more assured and confident than in many a while and taking the game to the Navarre side. As usual this season, the team was having trouble creating excellent goal-scoring opportunities, but when Marco Ruben put Villarreal ahead in the 65th minute following excellent work from Cani down the right, it looked as if the away win the side had been wanting for so long might actually be in the cards.
But we had reckoned without Garrido. His substitutions and tactics have been questionable many times this year, and here his decisions essentially cost Villarreal any chance of victory.
Immediately after Ruben's goal he took off Cani, who had been the home side's best player on the day, and replaced him with young Castellani, which essentially signaled to Osasuna that they didn't need to worry about them trying to score again. Osasuna duly came more into the match, in the 75th minute Villarreal's defense failed to deal with a cross and Ibra equalized.
Worse was to come: as Osasuna prepared to take a corner kick in the 83rd minute, Garrido brought on Gonzalo for Senna (removing one of his taller players) and Osasuna promptly scored a winning goal from the corner. The Villarreal players looked stunned and angry after the game, and President Roig and his son met with Garrido afterward– it was clear that the coach's job was on the line.
Against Mirandés, Garrido called on his veterans. Perhaps he thought they would be inspired to save his job, but frankly I believe he would have done better to play some of our youngsters who had something to play for.
Within six minutes Angel's clumsy challenge in the box earned him a yellow card and Mirandés a penalty, but fortunately César, as is his wont, saved the spot kick. Not even that could give Villarreal much of a spark, though.
Cani had a couple of nice runs through the defense and Borja Valero threaded a couple of good passes, but the Yellow Submarine, for all its possession, hardly threatened the Mirandés goal, with forwards Nilmar and Marco Ruben making no significant impact.
Whatever Garrido said to his troops at halftime clearly didn't motivate anyone, because from the restart the visitors looked the more dangerous of the two sides and also the one with more confidence.
Villarreal had been comprehensively outplayed at home by a team from the Segunda B, and it was no surprise when immediately after the game Garrido received his marching orders.
He thanked the club for the chance to manage them, said later he knew his job was on the line and he was very disappointed in the team. He called the game a disaster and an embarrassment (true enough).
By all accounts President Roig was very saddened and found it difficult to speak in the dressing room, because this was a decision he hoped he didn't have to make. He did tell the players they needed to justify their salaries and improve their play. Some of the players apologised to Garrido for their performance (Joselu did so on twitter as well).
So, who can Villarreal turn to in the hope they can change things around?
A number of coaches with La Liga experience have been mentioned: Laudrup, Michel, Victor Fernandez, Manzano (once Atleti lets him go).
Jose Molina, the current B team coach, is another possibility. He knows Villarreal's style of play, but has limited coaching experience, two years with the C team and half a season with the B team.
But then, Pep Guardiola's resume was equally thin when he took over senior duties at Barça, and Villarreal like to promote from within just as Barcelona do. It would be a cheap option, but if he doesn't get off to a good start, there's even less time to bring in a more experienced person to fix things.
Other names knocked around include Rafa Benitez, who would surely want a multiyear contract and a decent transfer budget so seems unlikely, and Luis Aragonés is even more unlikely.
Given Villareal's success with South American coaches and players, President Roig could look there, though this seems a risky move in midseason. One promising name was Boca Juniors coach Falciani, but he just signed an extension with the Argentine club.
At least whoever comes in will have essentially one task: keep Villarreal in the Primera. With the Copa done, and no European football, at least the team can concentrate on this task in the New Year.
President Roig has said he wants to have the new coach in place by December 28, when the players return from their Christmas break. He and the rest of the Villarreal braintrust have an important decision to make.
Let's hope they get it right.
_________________________________________________________________________
For more Yellow Submarine news, including podcasts, game previews and recaps, visit Villarreal USA
Follow @icentrocampista